Bookstore helps band purchase new uniforms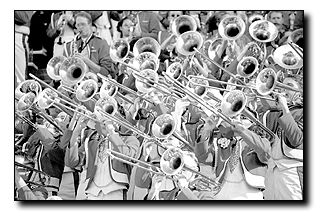 Aaron Farnsworth
Arizona Daily Wildcat
Members of the Pride of Arizona perform during Saturday's Homecoming football game against the University of Washington. The U of A Bookstore recently stepped in to assist the band, which is in need of about 300 new uniforms, by asking some clothing companies to donate $1 for each item sold in November.
Nearly every member of the UA Marching Band agrees that trying to hold together a nine-piece uniform with safety and bobby pins is neither entertaining nor professional. But thanks to the U of A Bookstore, help is on the way.
"I could fit three of me in there, and I have about five to 10 bobby pins all over my uniform," said Jenny Bajwa, architecture freshman. "(Plus) they have stains from so far back you don't want to know what's on them."
Though most of the members are concerned about being uncomfortable, others are worried about the impression students and visiting teams have about the University of Arizona when they see the band's uniforms.
"It's getting to the point where pieces are missing, and we are representing the UA - it's kind of bad," said Becky Lewark, a communication sophomore. "We would be a lot happier with new uniforms because we would feel we'd be putting on a better presentation of the university in good taste."
UA band members have had to endure the same uniforms for 13 straight seasons, said Jay Rees, director of the Pride of Arizona Marching and Pep Band. He has been trying to raise $75,000 to dress a 300-member marching band for the past three years.
"The band is so big this year that a lot of people suddenly realized what I've been saying for three years - we need new uniforms," Rees said.
To help fix the problem, the U of A Bookstore has agreed to help find funding for the marching band so the musicians don't have to endure another day of knotting, twisting and stained articles of clothing.
A Dean of Students Office official contacted Debby Shively, assistant director for the bookstore, for help after the band's attire was questioned at a recent Associated Students meeting.
Michael Dobbs, a molecular and cellular biology junior and ASUA senator, mentioned the uniforms as a significant concern during the meeting.
"The student affairs department asked us if we would raise money for the band," Shively said. "Since the band represents a student program that's involved in many facets of the university, we thought it would be a good idea to help."
Shively then contacted vendors who are associated with the bookstore. Soon after, three vendors stepped forward to offer assistance.
Jansport, Gear For Sports and Cotton Exchange each "agreed (that) with every piece of merchandise sold from their company, they are going to give a dollar to the band during the month of November," Shively said.
These funds will contribute money that the band needs to raise by this spring.
Until then, band members are going to have to endure what astronomy freshman Keith Reeves called a shame.
"The uniforms we have now are about (13 years old) and we had to borrow some from Tucson High," Reeves said.
"It's awful because we should be able to have our own uniforms but they're falling apart, and we're (constantly) pulling every little thing together with scraps and pieces," he said.
The band has earned more than $60,000 from fund-raising events, including Band Day, Rees said.
The band also received $3,000 from the Alumni Association's silent auction that was held during Homecoming weekend.
Still, there is a hole to fill before the spring semester is over so the band can pre-order their uniforms for the fall, Rees said.