ASUA approves class Web site resolution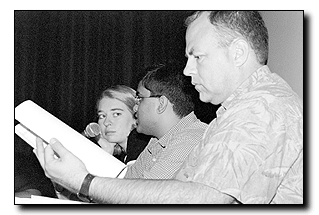 Eric M. Jukelevics
Arizona Daily Wildcat
Senator Ahmad Saad Nasim discusses a question about creating a centralized listing of class Web site materials with Sen. Julie Burkhart and Brian Seastone, UAPD cmdr. and an ASUA senator, at the Senate meeting Wednesday night. The centralized listing of class Web sites would make it easier for students to download notes and other class materials.
ASUA senators passed a resolution Wednesday that would further centralize faculty Web sites and on-line course materials.
The resolution will go into effect if approved at December's Faculty Senate meeting.
Cisco Aguilar, Associated Students of the University of Arizona president, said students will benefit greatly if the item is passed.
"It will eliminate much of the confusion for students," he said. "It is difficult for students when they are given so many URL's."
The resolution states, "There is no way for students to find all course Web sites and...students need a way to find their course Web sites easily."
Aguilar said passing this resolution was a result of ASUA's hard work and commitment to students.
"I think it is important that ASUA's taking a concern with the issue," he said. "It will make it easier for students to get the information for class."
If the resolution is passed, UA faculty members will be expected to put their Web pages under one site. He said UA faculty members should not feel any extra burdens.
"I don't see any extra stress for teachers, at least I hope not," he said. "You never know what will happen in the future though."
In other business, ASUA approved the appropriation of $682 to two clubs.
The International Studies Student Association was allocated $82 for start up costs in food, dining, and advertising costs for their first meeting.
The Asian Pacific American Medical Student Association was given $600 for registration and lodging costs for an up-coming conference in San Francisco. The club originally requested $1581.33. According to the minutes of the appropriations meeting, the club was denied funding because seven of the 12 members were graduate students.
According to the Appropriations Board constitution, ASUA cannot fund students unless they are UA undergraduate students.