UA beats California All-Stars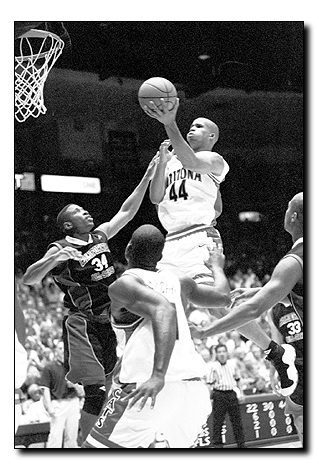 Ian C. Mayer
Arizona Daily Wildcat
Sophomore forward Richard Jefferson goes up for one of his lay-ups as Kenneth Young of the California All-Stars tries to defend him. Jefferson scored 18 points in the Wildcats 86-83 win over the All-Stars, hitting two key three-pointers in the second half.
Despite news received earlier in the day that a key player would be leaving the team, Arizona was able to keep its focus and win its final exhibition game yesterday at McKale Center.
The Wildcats were able to do something Utah, New Mexico and Arizona State could not do: defeat the California All-Stars 86-83, but the win came at a price as sophomore guard Ruben Douglas announced that he is transferring at the end of the semester.
All five of Arizona's starters scored in double digits, with sophomore forward Richard Jefferson, junior center Loren Woods and freshman guard Jason Gardner chipping in 18 points apiece.
Woods also grabbed a game-high 13 rebounds.
"They prepared us real good, we knew we were in for a dog fight and luckily, we won," said sophomore forward Michael Wright, who had 14 points and eight rebounds.
Douglas sat out last weekend's exhibition game against Alytus Alita of Lithuania to keep his options open, but appeared to have made his mind up and returned to practice with the team.
So when he dropped the bomb yesterday, the team was caught off-guard.
"I'm shocked, really," Wright said. "I don't really know what's going on."
The best thing for everybody to do, in this case, was to just go out and play basketball. The California All-Stars, who featured former UCLA forward Charles O'Bannon, were playing in their 11th game in 14 days, but didn't show any signs of tired legs against Arizona.
"This is a tough team to play because they have excellent size, great experience and outstanding three-point shooters, we had to have either Michael Wright and Loren Woods defend somebody that was a good three-point shooter," head coach Lute Olson said. "The great thing is that, with it, we learned something from this situation and will be able to break it down and let the guys see what we're seeing. I think we have a good chance of seeing that corrected."
Unlike the 52-point rout of Alita, the Wildcats were challenged from the opening tip-off by the physical California All-Stars.
Olson said he was disappointed with his team's perimeter defense and turnovers. The All-Stars didn't shoot the three-pointer all that well - 9-for-27- but forced 20 Arizona turnovers.
"I was disappointed in our defensive transition from our front-liners, I thought that was the single most glaring weakness that we faced," Olson said. "Our guards handle the ball, for the most part, and 16 of the 20 turnovers we had were from the front-liners. That's inexcusable and something that obviously needs to be taken care of."
Jefferson said the team will need to step their games up to fill the void Douglas is leaving behind, and showed he has the ability to do that after playing a much stronger second half than the first.
"Richard Jefferson stepped up big-time for us in the second half, and overall, I thought Richard gave us a big lift," Olson said.
Jefferson had three blocks, the last of which came with 7.6 seconds left, when he denied O'Bannon the opportunity to cut it down to a one-point deficit by blocking what appeared to be an easy lay-up.
"Like Coach Olson said, this kind of showed some of the things we need to work on," Jefferson said.
Unfortunately, there isn't much time to prepare for Kansas State, the Wildcats' opponent tomorrow night in the first round of the Preseason National Invitational Tournament at McKale Center.
"I don't know much about them at all," said sophomore guard Gilbert Arenas, who had 11 points and eight rebounds. "I'm just going to go out there and play hard like I always do."
Olson said that junior guard Lamont Frazier and sophomore forward Rick Anderson -Øwho both did not participate in yesterday's game due to injury -Øshould be ready to play tomorrow night against Kansas State.