Douglas decides to find playing time elsewhere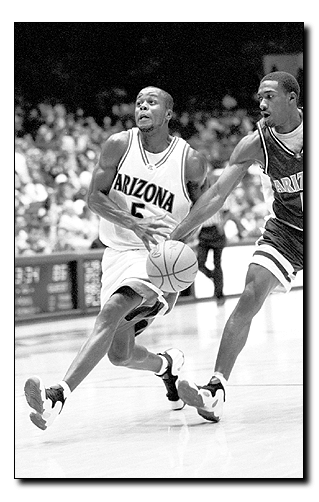 Ian C. Mayer
Arizona Daily Wildcat
Sophomore guard Ruben Douglas is about to go up for a dunk, while freshman guard Gilbert Arenas lets him go by. Douglas has made his decision to transfer to another school at the end of the semester.
After a long, debated situation in which sophomore guard Ruben Douglas and head coach Lute Olson both said everything had been worked out, Douglas said yesterday he has decided to transfer to another NCAA program at the end of the semester.
"He felt that it would be better for him to get a release," Olson said. "He will stay in school - that was the first question I asked to make sure he was taking care of business academically. Then, whatever help we can give him in terms of finding a place, he will have that opportunity. We are disappointed obviously, and sort of feel he probably gave up on himself a little early, but we can't do anything about that now."
With Douglas out of the picture, the UA is left with only a three-guard rotation instead of the four guards Olson was planning on working with.
"The key thing now is to get Lamont Frazier ready to go and he will become a backup point as well as a backup wing," Olson said.
Frazier should be ready to go tomorrow night when Kansas State comes into town.
As for the freshman tandem of Jason Gardner and Gilbert Arenas, both said they can handle the job ahead of them, but they would have definitely liked to have Douglas in the mix.
"We need the mix, we need everybody in the rotation, it doesn't matter how it is, we need everybody," Arenas said. "It puts a lot of pressure on us because it is only a three-guard rotation right now. If we get in foul trouble it will be hurting us in the front court or in the back court. It was another shocker. He practiced with us all week hard, and then we found out he is not playing again."
Gardner agreed with his backcourt mate.
"We just need to step up our game," he said. "I'm not saying that we need to score more points, but step up our defense, get more steals and rebounds here and there. But that is just the game of basketball, it is almost like if he were hurt, we would need to step our game up."
Arenas and Gardner took the first steps yesterday as Gardner - in 37 minutes of play - scored 18 points, shooting four of 10 from three point range. To go along with that, he also had eight assists and Arenas scored 11 points with eight rebounds in 35 minutes of play.
"I was pleased with the freshman guards," Olson said. "When you look at the experienced guards they were against, I thought they did an excellent job. They made some mistakes, but I didn't get the feeling that either one of them was intimidated or uptight about the game."
The rest of the team, though shocked about the situation that they learned of yesterday morning, did mention that they wish Douglas the best in what he does, but they have to go on with the rest of their season.
"I am disappointed just like all the guys that Ruben is not here, his presence will definitely be missed but I think that we have to move on and stay focused," said junior center Loren Woods, who also went through the transfer process from Wake Forest to the UA. "I kind of knew what was going on, but like all of us, you don't know unless he talks to you and Ruben kept it to himself. But, Ruben is a good person, wherever he goes he will succeed."