Wildcats split series with Bay Area teams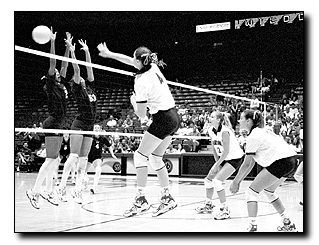 Aaron Farnsworth
Arizona Daily Wildcat
Senior Raelene Elam spikes the ball against Cal on Friday night, a match the Wildcats won. After beating Cal, UA got swept by No. 2 Stanford on Saturday night.
The UA women's volleyball team didn't surprise many people this weekend.
The Wildcats split the home series against California and No. 2 Stanford, beating the Golden Bears in four games and falling in three games to the Cardinal.
Friday night saw UA (16-9 overall, 10-6 in the Pacific 10 Conference) defeat Cal 14-16, 15-5, 15-7 and 15-13, as the Wildcats set a season high with 11 service aces.
In the match, sophomore Erin Sebbas became the most unlikely hero. The 6-foot-3 middle blocker doubled her career totals in kills with 10, adding 10 blocks as well.
"I've always practiced for whenever they need me," Sebbas said. "I just want to be confident, play hard and be a player the team can depend on."
Senior Raelene Elam, who played in her final home series this weekend, has nothing but good things to say about Sebbas.
"Erin is very awesome," Elam said. "In practice, she's been doing very well. Lately, she's been doing a very good job."
In Saturday night's tilt, No. 2 Stanford swept the Wildcats 15-8, 15-13 and 15-11 as the Wildcats played uninspired volleyball.
"We just didn't come out to battle from the first serve," UA head coach David Rubio said. "We played without any emotion and spirit."
The Wildcats threatened Stanford just once, in the second game. The resilient Cardinal staved off the Wildcat rally, winning the game, 15-13.
"Senior night" was a bust for Elam as she had zero kills in 12 attempts, for a -.583 kill percentage.
Following the match, the outside hitter was more disappointed with the team's performance than her own.
"I'm more disappointed with the way we played as a team," she said. "It was just a matter of the team clicking. Tonight, we just didn't click."
Freshman Lisa Rutledge and junior Marisa DaLee led UA with nine kills apiece. Sebbas was given the start over DaLee, who started a match on the bench for the first time all season.
"Marisa got the same amount of playing time as she usually gets," Rubio said. "We just wanted to use a rotation that we thought would work."
Logan Tom, the Cardinal's highly-touted freshman, had 12 kills.
"She's on the Olympic team," Rubio said. "She's had a lot of experience on the international level. Logan's obviously a very talented player."
Rubio cited the team's inability to play relaxed volleyball against a solid Cardinal team.
"The opponent wore an Arizona uniform tonight. If we'd played with any emotion, it's a different type of match," he said. "We didn't play good enough volleyball to win tonight. This Stanford team is the most solid, physical team I've ever seen.
The Wildcats head to Oregon this weekend to close out the Pac-10 season against Oregon and Oregon State.