USC, UCLA no match for UA swim teams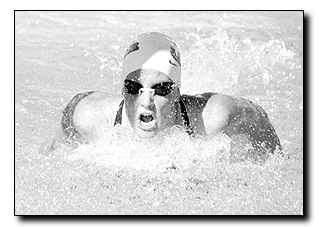 Sarah Brown
Arizona Daily Wildcat
Senior All-American Trina Jackson swims to a third place finish in the 200-yard fly against UCLA. The women's swimming team beat both USC and UCLA this weekend to remain undefeated.
The UA men's and women's swimming teams made one thing clear this weekend, they are good, real good.
In there first real test of the year, the No. 4 men's team narrowly escaped a victory over No. 5 USC, 124-119.
"We just wanted to come out and give it our all, it really took a team effort," sophomore Peter Johnson said.
Leading the way for the men was senior Ryk Neethling, who had two second place finishes in the 500 and 1000-yard freestyle.
Finishing second was something new for Neethling, who had not lost a race in over two years.
"I had this weird feeling going through my head when I was warming up that maybe it would be a good thing if I lost," Neethling said. "It's a big motivator for me to come back in the NCAA's and smash him (USC swimmer Erik Vendt, who Neethling lost to)."
Jay Schryver (200-yard free), Roland Schoeman (50-yard free) and Jeff Dash (200-yard fly) all took first place in their respective races against the Trojans.
Even more impressive than the men's team was the women's success against USC and UCLA.
Ranked No. 2, the Wildcats beat the No. 4 Trojans 148-93 Friday and then the No. 14 Bruins 186-122 on Saturday.
"We won both the meets and that was our main goal," senior Trina Jackson said. "We thought the first day would be a lot closer to win though."
Freshman Amanda Beard set a school record in the 200-yard breaststroke against the Trojans, and then broke her own record the next day against UCLA. In all, Beard captured four event titles over the weekend.
Fellow freshman Beth Botsford also took home four individual titles for the women.
"I felt real good in the water, I didn't have specific time goals," Botsford said of her victories.
The men's and women's teams also competed in an exhibition against the SoCal All-Stars this weekend.
They had a relatively easy time against the All-Stars with the men winning 163-80 and the women winning 164-96.
"These guys have some great talent coming up," senior Matt Allen said. "I mean most of them are 16 or 17, so it's nice to see some guys that could be future Wildcats."