'No access here'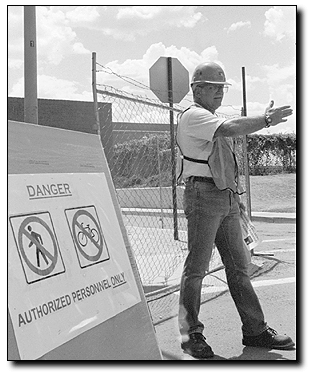 Randy Metcalf
Arizona Daily Wildcat
J. David Odon, a Swinerton & Walberg security and transportation employee, directs automobiles and pedestrians around a construction zone on campus last week. Odon is responsible for the safety of all UA community members during the Student Union construction.
He may not have a household name, but David Odom's re-frain is familiar to anybody who has walked along North Mountain Avenue behind the Memorial Student Union. "This is a construction site! There's no access here," he shouts at passers-by.
Working under the title of security/traffic controller, Odom is the man in the hard hat who spends long days under the sun, directing pedestrian and vehicular thoroughfare with military precision.
Co-workers salute him. A young man with closely cropped hair walks by and asks, "Were you a marine, sir?"
Though he may come off as strict, even harsh, Odom's job demands it.
"Construction is a dangerous thing," Odom said. "It takes about a split second for somebody to get hurt out here."
"Sometimes we have to be a little bit firm, but that's the way it goes," he said. "Our major concern is the welfare of the students."
A father of seven, Odom takes his duties to heart.
"If one of my kids ended up under the wheels of a construction vehicle, I would make somebody pay," Odom said. "Everyone out here's my kids - they're all my people, every one of them."
Despite Odom's focus on safety, pre-computer science sophomore Liz Shouse wonders why he even needs to be directing students.
"That's scary that people need to tell other people about using common sense," she said.
Still, people are set in their ways and don't expect to be told what to do, which Odom admits makes his job less than easy at times.
"Everybody is used to doing things the way they do them," he said. "We try to help people modify their behaviors."
Odom said that sometimes his protection is confused with authority, which makes some passers-by defensive, even outright hostile. He gets his share of dirty looks and off-color comments.
Odom estimates that he confronts "decidedly hostile" people at least twice daily. However, they don't detract from his day.
"I consider them to be immature individuals," he said. "Most people here are a lot of fun."
In his two weeks at his station near the soon-to-be-demolished swimming pool at the rear of the union, Odom has befriended many members of the UA community. A girl visits him offering donuts. Students who frequent the area wave and say hello. A woman from the catering department even playfully engages Odom in a game of chicken with her golf cart.
"I play with people when I can, because sometimes it gets a little uncomfortable around here," Odom said. "I tease people when I can. It's a game."
Even when a woman unreceptive to Odom's direction extends a middle finger from the passenger window of her tattered Buick, he retains his wit.
"Does that mean I'm still number one with you?" he shouts.
Even though a man who spends his day shouting "Whoa! You can't go back there!" may not seem like much fun, Odom unabashedly admitted, "I get a little bit silly."