New fence congests university foot traffic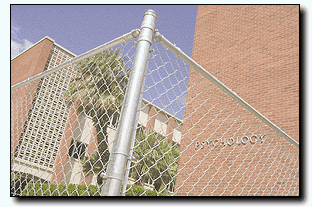 Matt Heistand
Arizona Daily Wildcat
Construction fences around the Psychology and Modern Languages buildings are making it difficult for students to get to and from classes in the area.
By Ty Young
Arizona Daily Wildcat,
August 30, 1999
As construction gets a late start on the new Integrated Learning Center, students have raised numerous complaints concerning classroom noise disturbances and difficulties getting to class on time.
Undeclared freshman Michael Penn Jr., who dealt with construction at his high school, said "I thought I was leaving all this behind. Now it's more prevalent than before."
The major traffic area now runs between the Modern Languages and Psychology buildings. A new fence has added some confusion as students must detour travel routes between classes.
"It's a pain and a hassle. I have to plan ahead and leave for class earlier," said Geoff Gardner, a media arts sophomore.
Groundbreaking on the Integrated Learning Center, a $26.35 million project, is slated for early September. Protective walls will surround the 85,944- square-foot area from the Visitor Center to the cactus garden on the UA Mall.
The ILC, a one-story, underground structure that will house most freshman services, will require several months of night-time digging from 8 p.m. until 6 a.m. Workers will remove a total of 100,000 cubic yards of dirt.
All buildings will remain open for classes, but students must find their way around the fenced construction sites.
Access to the finished ILC will be in front of Modern Languages and Psychology buildings, and in front of the library.
Mall access to the area has totally ceased, and students traveling east must walk through a fenced area to enter either building.
Access to the Psychology building from the Memorial Student Union is now limited to the walkway that runs through the Modern Languages building.
"It takes longer to get to class and looks very unattractive, especially around Modern Languages," said Katie McNerney, a political science sophomore.
Aside from the obvious travel difficulties, some students have complained about the noise construction causes.
"Its very disruptive, especially in the Psychology building," said Mike Peters, an elementary education freshman.
Despite the current difficulties, the UA construction committee has taken numerous steps to help alleviate both the noise and travel confusion.
"In the contract with the construction company, we wrote in a great number of provisions to help reduce the noise and impact on students," said UA spokeswoman Sharon Kha.
Included in these terms are stipulations centering upon the times of actual construction. All dirt from the Mall will be removed at night, while daytime construction crews must follow certain regulations to further alleviate noise.
"We asked that back-up beepers on the trucks be turned off," Kha said. "There are also flag men that direct traffic in order to help reduce noise."
Although negative student reaction is prevalent, class instructors expressed less concern.
"The university has been pretty good about scheduling heavy construction around times of heavy instruction," said Daniel Bernardi, assistant media arts professor.
The majority of work is targeted before 8 p.m.
"It really hasn't bothered me that much," said Patrick Guinan, who teaches English composition.
Still, the university has acknowledged the eminent problems that come with the ongoing construction. Numerous communication links were established to answer the questions of confused students.
Both a telephone hot-line and website are currently providing answers and directions for students and faculty. Calling 621-NEWU, or visiting www.UAconstrcution.opi.edu, will give further information.
"We have thought of everything possible to reduce the noise, but with the amount of construction there is just no way to contain all of it," Kha said. "We welcome ideas from the (Arizona DailyWildcat) readers that may aid in solving confusion."