UA opens season play tonight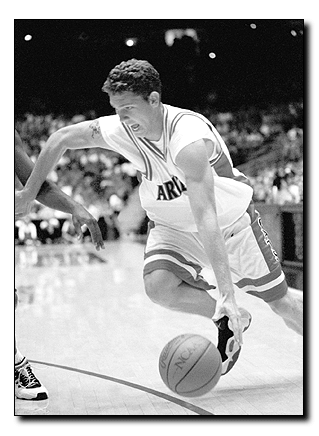 Ian C. Mayer
Arizona Daily Wildcat
Freshman forward Luke Walton drives to the hoop Sunday afternoon during UA's victory over the California All-Stars. Walton has impressed the coaching staff early this season and will see plenty of time at the small forward position when the Wildcats open their season tonight against Kansas State at 8:30 in McKale Center.
Gone are the days of Alytus Alita of Lithuania and the California All-Stars.
The UA men's basketball team will finally play a game that counts toward its record tonight when they tip-off against the Kansas State Wildcats in the first round of the Preseason National Invitation Tournament at 8:30 p.m. at McKale Center. The game will also be aired on ESPN2.
"We feel ready, we've got enough tools. It's just the little things that we have to correct, but overall we are ready," sophomore forward Michael Wright said.
Kansas State brings an inside game built around a half-court offense into McKale Center tonight, but they are also a team that likes to run in transition, just as UA does. They also counter an explosive UA offense with a lethal defense that held opponents to a 37.1 field goal percentage last year.
Kansas State lost both of its exhibition games this season - 79-78 to the California East All-Stars (not the same California All-Stars Arizona faced) and 75-59 to the NBC Thunder.
"It will probably be a fast-paced game, and we have to get back in transition," said Kansas State's senior guard Cortez Groves. "We match-up pretty well. We got a lot of quickness just like their guys do. We got guards that can shoot just like them, so we match up pretty well."
Groves is KSU's top returning scorer from last year's 20-13 squad that lost in the first round of the Postseason NIT last year. He averaged 9.9 points per game and was a member of the Big 12's All Newcomer Team.
One big question mark for K-State is their point guard position, where they rotate three players in and out due to the loss of sophomore guard Josh Kimm to injury. Kimm was a teammate of current UA player Justin Wessel at Prairie High School in Cedar Rapids, Iowa.
To counter K-State's Groves and point guard by committee, UA brings in the freshmen backcourt tandem of Jason Gardner and Gilbert Arenas, with a healthy junior guard Lamont Frazier ready for action.
Sophomore forward Rick Anderson, who along with Frazier did not participate in Sunday's win over the California All-Stars, will also be ready to play.
"Ricky Anderson has the slight muscle strain in his back, and we didn't want to take any chances of him playing today at the expense of him playing Tuesday," UA head coach Lute Olson said after Sunday's game. "Lamont Frazier should be ready to go by Tuesday. This has not been a good week for him, but he feels well right now and should be ready to go."
Arenas will have the opportunity to show the K-State program what they are missing this year and for years to come, since he chose UA over K-State during the early recruiting period.
"He is a terrific player. He is going to be an awesome player," KSU head coach Tom Asbury said. "We might have been the only two places that he took an official visit to, but I think he would have enjoyed being the other Wildcat. He is a very fine player, explosive, even though he is young, he will make a lot of mistakes, but he will make up for them as well."
The concern for Kansas State is in the frontcourt, where Wright and junior center Loren Woods occupy plenty of space in the paint.
"It is just basically being in the right place at the right time," said KSU's senior forward Tony Kitt, who was an honorable mention All-Big-12 player last year. "Getting your man is the first thing and then the help defense is the gist of it. If we help each other we should be okay."
When it comes down to the basics, the two teams just don't have enough knowledge of each other in order to give an accurate prognostication of the outcome.
"We don't know that much about K-State," Woods said. "We have some scouting on them. We know they have a good big guy and have a good perimeter player, but that is almost every team we have on our schedule. So I think it is pretty much just going to be a good game because we don't know much about them and they don't know much about us, but they are in the tournament just like us."
The winner of this game will take on the winner of the Hofstra versus New Mexico State game, which takes place in Las Cruces, N.M. The winner of that game goes to New York to play in the Final Four of the Preseason NIT at Madison Square Garden next week.