Slammed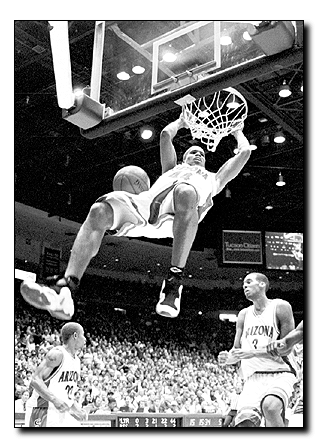 Arizona Daily Wildcat
Photo by: MATT CAPOWSKI
Sophomore forward Richard Jefferson, who had 15 points and 10 rebounds last night, finishes off a dunk during the 88-69 win in the Preseason NIT first-round game. The Wildcats take on New Mexico State in the second round Friday night at McKale Center.
If they eliminated the first half of basketball last night, then the Kansas State Wildcats (0-1) would be heading to Las Cruces, N.M. to face the New Mexico State Aggies in round two of the Preseason National Invitational Tournament.
But, unfortunately for head coach Tom Asbury's Wildcats, the first half still stands as it was - a 55-28 advantage to the No. 10 Arizona Wildcats (1-0).
Propelled by the freshmen backcourt tandem of Jason Gardner and Gilbert Arenas, along with double-doubles by sophomores Michael Wright and Richard Jefferson, the hometown Wildcats exploded onto the scene in the 1999-2000 season with an 88-69 victory.
"It felt good, that is what I was aiming for. I'm trying to get all double-doubles in every game," Wright said. "We didn't want any upsets coming into the season just like Ohio State and Notre Dame, so we knew we had to go out there and get after it. We just went out there and executed and got the win."
Gardner and Arenas combined for 28 points, 15 assists and eight steals in their first official games in Arizona uniforms. Wright and Jefferson helped the backcourt out with stellar play in the frontcourt as well, combining for 26 points and 20 rebounds.
Junior center Loren Woods chipped in with 15 points and four rebounds, but he was in foul trouble for most of the game, leaving for the first time with 12:56 remaining in the first half with two quick fouls.
"It is always frustrating for any player when you have to sit out and not participate, but when I sat down and my team still maintained the lead and even got better, and I know when I got in, I think we are even better," Woods said. "I can't worry about that, I came out and did the best I could with the momentum I had, even though I didn't have that much momentum."
Arizona also held K-State to just 39.1 percent from the field and only 28.6 percent in the first half.
"I think we are quick enough to do it if we can get our big guys to challenge shots coming to the basket more," UA head coach Lute Olson said of keeping the opponents in the 30s in field goal percentage. "Loren has to be more of factor there but so does Michael Wright. The basket area is theirs, and I don't care whose man that is, it is theirs and that shot has to be taken under duress."
From the opening tip-off to the final buzzer, UA was in control, leading the whole way as Arenas started the scoring by nailing a three-pointer just 16 seconds into the game.
After the first points were on the board, UA went onto lead 20-5 six minutes into the game, with Gardner and Arenas scoring the first eight of those points and 13 overall.
KSU didn't let that lead creep any higher than it was, as they came back to make it a five point game at 31-26 with 5:11 remaining in the first half.
But, UA took the game away once again, going on a 22-0 run and eventually finishing the half on a 24-2 run.
"We wanted to shut out their inside game," Woods said. "We knew they had one good inside player and one good outside player and we wanted to make sure that they couldn't get the ball in the middle and make them shoot a lot of jumpers. I think that took them out of rhythm and that is what sparked our 22-0 run."
With a comfortable lead at halftime, Arizona came out in the second half, strictly trying to hold onto the lead as they played almost even the whole way, coming out eight points down in the final 20 minutes (41-33), but 19 points up for the full 40 minutes.
"I think we came out there and played aggressive, but we played under control. Coach O told us after the game we did some things well and some things not so well," Jefferson said. "We got away from some things in the second half, but we still played well as a team. Now we just have to go look at the film of New Mexico (State) and go from there."
The Wildcats will hit the floor once again on Friday night against New Mexico State in the second round of the tournament at McKale Center. The winner will move on to Madison Square Garden in New York City for the Final Four of the Preseason NIT next week.