UA backcourt shows no nerves in opener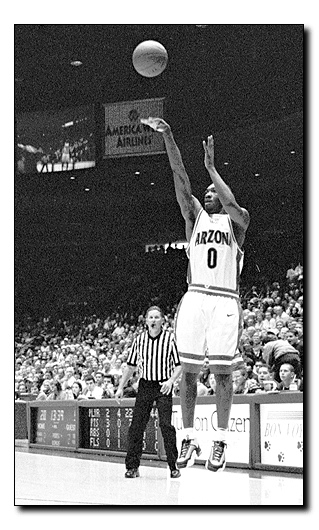 Wildcat File Photo
Arizona Daily Wildcat
Freshman guard Gilbert Arenas shoots a three-pointer during the first half of last night's 88-69 win over Kansas State in the first round of the Preseason NIT. Arenas, playing in his first regular season game for Arizona, had 14 points, six assists and five steals.
A crowd of 14,355 at McKale Center and a national television audience on ESPN2 watched anxiously with one question on their mind - will a freshmen backcourt really be able to lead Arizona in 1999-2000?
Well, it may have only been one game, but that question was answered assertively last night as Jason Gardner and Gilbert Arenas showed no signs of nerves or anxiety in their first regular season games for Arizona in the 88-69 win over Kansas State.
"We just got great preparation throughout the week, and Kansas State didn't let down," Gardner said. "We did some good things, but there were also some things we need to work on."
Gardner played a team-high 32 minutes and had 14 points and nine assists, while Arenas had 14 points, six assists and five steals in 30 minutes. More importantly, Arenas' defensive pressure forced numerous Kansas State turnovers and bad shots and started off the fast break, led by Gardner.
"I don't see two guards playing better in an opener than those two did," UA head coach Lute Olson said. "(Arenas) could be a senior guard out there. With the defensive problems that he created, he has the chance to be like Reggie Geary was here. With the ball, he makes great decisions."
For the last three years, disrupting the opponent's offense has been the role of senior forward Eugene Edgerson, but since Edgerson is redshirting this season, Arenas has had to step in and fill the void.
"I love his all-out hustle," Edgerson said. "For a guy who is only 17-years old, you'd think he'd be all crazy and nonchalant, but he hustles and is always in the right place."
Arenas has surprised even himself by playing so well at this level so early in his career.
Junior Lamont Frazier, a junior college transfer, has been kept out of many of the team's practices with medical reasons. He sat out the exhibition win over the California All-Stars on Sunday for precautionary measures, but returned to action last night and played 13 minutes. He still isn't quite at 100-percent fitness, but grabbed three rebounds despite also having recurring tendinitis in his left knee.
"I feel all right, you just want to get out on the floor," he said. "I have to relax out there and not be so tense."
Olson was just pleased to see Frazier play, giving him valuable game experience in Arizona's three-guard rotation.
"I was just pleased we could get him some playing time," Olson said. "Obviously, when you look at him, he has some true ability at guard. He can play the combo-guard or play the wing, and he's had half of the practices the other guys have had."
Junior center and co-captain Loren Woods had to provide a calming word before the game to the freshmen, but the butterflies went away at the opening tip-off, as Gardner and Arenas combined to score Arizona's first eight points of the game.
"Loren made me comfortable," Arenas said. "He told me to do what I do best, and that's score, rebound and play defense."
Olson has been very impressed with Gardner's play at the point, as the Indianapolis-native has done an excellent job controlling the team on the floor.
"Jason just plays with such maturity, but it doesn't surprise me because he plays that way every day in practice," Olson said. "The guys love to play with him (Jason), and now I see why."