Anything but garbage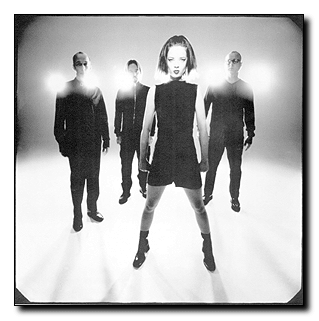 Arizona Daily Wildcat
Photo Courtesy of Almo Sounds Garbage and Lit perform at Centennial Hall on Saturday night at 7:30 as a part of MTV's Campus Invasion Tour. Led by singer Shirley Manson, band members from left to right are: Duke Erikson, Butch Vig, Steve Marker. Tickets for the show are sold out.
This much we know about Garbage lead singer Shirley Manson: She's only happy when it rains. Hates stupid girls. When she grows up, she'll turn the tables.
And one can only hope that maybe Manson will reveal more of herself Saturday night in her concert on campus.
The show, brought by Rising Star Productions and the University Activities Board as part of MTV's Campus Invasion tour, starts at 7:30 p.m. at Centennial Hall.
"I think I've got a pretty good grasp of who I am," Manson, the red-haired bombshell, said in a promotional press release. "I'm not going to lose myself in the mix. When the music business spits me out, which it inevitably will, I want to be able to walk back into my normal life and not be damaged by it."
Maybe someday the music biz will spit Manson out, but right now she's one of the tastiest things in its mouth. Tucsonans gobbled up all the tickets to the show days after they started to go on sale. These days, the only way to get in is to either blackmail a friend that has a ticket or call in on radio giveaways.
New-school band Lit will warm things up. Allen Schellenberger is the drummer, Kevin Baldes rocks the bass, and brothers Jeremy and A. Jay Popoff handle guitars and vocals, respectively.
The band has remained intact since it formed in 1990.
Lit is a hard-rocking, vocal-driven pop-alternative band who released its debut, Tripping the Light Fantastic, off an independent label in 1997. The album received extensive play on college radio stations throughout the country, and rose to the No. 1 spot on the College Music Journal charts.
But then it was time for the band to step into the big-time with a major label.
"We didn't want to be a buzz band. We didn't want 10 labels to like us; we just wanted one to love us," A. Jay Popoff said in a press release.
Lit released its first album off the RCA label earlier in the year - A Place in the Sun.
In the song "My Own Worst Enemy," Lit unveiled one of the best lines of the year: "Can you forget the things I said when I was drunk? I didn't mean to call you that."
It will be hard to top that one, but Garbage should be up to the task.
Manson is joined by Duke Erikson, Steve Marker and Butch Vig.
With scorchingly hot singles like "When I Grow Up" and "Special" off its 1998 CD, Version 2.0, Garbage is still receiving big-time play on local radio stations several months after the album's release.
And Garbage is also likely to whip out songs off its self-titled 1995 debut CD. Songs like "Queer," "Stupid Girl" and "Number One Crush" are what made the band famous.
Those songs garnered three Grammy nominations for the band, but none of them came through.
"I realized that night that I was much more ambitious than I ever was," Manson said after the Grammys. "I didn't think it would matter. If we'd won anything it wouldn't have mattered. I just realized how much I hate to lose."