Love stories offer a dose of REALITY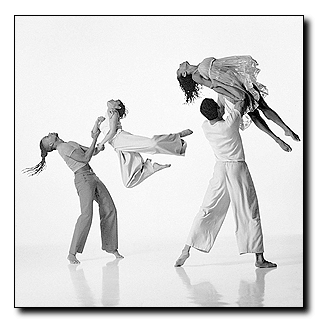 Arizona Daily Wildcat
Photo Courtesy of Centennial Hall. New York-based dance troupe REALITY combines their talent with local performers in David Rousseve's "Love Songs." The show aims to portray the African-American experience throughout history, and will be performed at Centennial Hall tomorrow night.
It's the story of undying compassion, bittersweet romance and everyday prejudice.
Love Songs, a dance/theater performance by artistic director David RoussÉve, is coming to Centennial Hall this Friday at 8 p.m. The performance features the work of RoussÉve's dance company REALITY along with several members of the Tucson community.
"We are always happy to do local work," said Charmaine Warren, RoussÉve's assistant.
RoussÉve described the performance as a dialogue on compassion that spans from the time of slavery to the contemporary era, including theatrical dance as well as performance art.
REALITY, a New York-based dance company, has existed since 1988. The company seeks local performers when traveling, intending to enhance community interaction. However, the main acting and dancing in "Love Songs" is performed mostly by the company, since its members have perfected the piece over several years.
Wendy Joy, 35, a graduate of the UA Dance department, plays the role of a dying mother who must try and help her son understand his heritage. The boy is played by her real life son, 6-year-old Jared Koltnow. Koltnow has been acting alongside his mother for about a year now. When asked if he liked working with his mom, he smiled bashfully and nodded his head.
Along with this performance, Joy has participated in several other dance-related productions, including her 1998 concert "Cycles of Inspiration," which she created for her thesis. Her hard work with various musicians and visual artists from the UA paid off. The performance won her a grant.
Until last night, the company and those cast members from the local community had never rehearsed together.
Now RoussÉve must concentrate on combining both parts of the show in preparation for opening night on Friday. According to 24-year-old local performer Veronica King, RoussÉve briefed the community actors about the workings of the performance before they met with the company.
"He taught us how to act and carry ourselves," King said. "I 'm excited to see what the company has, because so far we've just heard about it."
RoussÉve and REALITY maintain quite a strenuous rehearsal regiment, both on the road and at home. When working full time, the company practices five to six days a week from 10 a.m. to 6 p.m. While on the road, rehearsals run from 6 a.m. to 9 p.m. on weekdays and 1-5 p.m. on weekends.
The community actors alone began four- and five-hour rehearsals early last week. The majority of the actors will have practiced at least 30 hours in only a week and a half before the night of the show.
The performers agree the brilliance of the show is because of RoussÉve's hard work and dedication.
"I 'm very impressed. He's so selfless to do this. He took people who don 't know anything and made them understand his work," Joy said. " Judging from his personality, there is nothing intimidating about working with the company."