A creative journey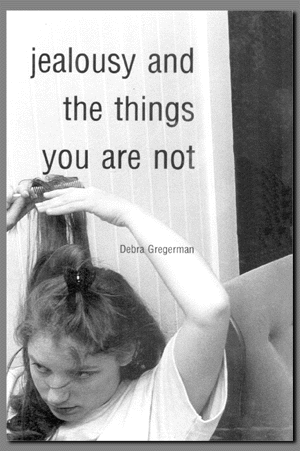 Arizona Daily Wildcat
Photo Courtesy of: Owl Creek Press Debra Gregerman, a lecturer in the UA English department, published her first book, "Jealousy and the Things You Are Not," last month. The collection of poetry, which focuses largely on Gregerman's childhood, reflects her teaching styles.
It only took an extensive creative writing workshop to get the ballpoint pen rolling for Debra Gregerman, who now teaches English at the UA. After having several poems published in literary journals, her first book, "Jealousy and the Things You Are Not," was published by the Owl Creek Press last month.
Gregerman started out with a B.F.A. in painting from the Rhode Island School of Design. Her first job out of college, editing medical texts in Spain, led her to pursue writing. She took her participation in workshops one step further and decided to attend graduate school at UA.
"I had always loved writing," Gregerman said. "I just started to do more of it as I had less and less time and money to paint."
Lack of time and money turned out to be a blessing in disguise as Gregerman found her calling as a poet and teacher. She now teaches a freshman honors composition course and intermediate poetry writing.
While she finds the workshop environment to be a helpful tool for blooming writers, she wants writers to know that they can flourish by trusting their own instinct above all else.
"Take the advice of your teachers and your peers with a grain of salt," she said. She believes that as valuable as getting another writer's opinion may be, the final handprints to mold the poem should always be the writer's.
In her journey as a writer, Gregerman has played tug-of-war between her own poems and the criticism of others, and in the end, she has won.
Her students find her emphasis on individuality to be one of Gregerman's strengths as an instructor. It's one of the reasons Tami Hubbert, a double major in creative writing and English, chose to work with Gregerman on her senior year's independent study.
According to Hubbert, Gregerman's teaching style never knocks a student's work, but instead teaches each student to knock on the doors of opportunity they want to open in their work.
"She never really thinks anything you're working on is bad," Hubbert said. "She's really helpful and willing to work with you on the level that you're at."
Striving to reach personal goals is important to Gregerman, and as an instructor she tries not to let the evaluation process of a creative writing program overshadow one's personal confidence as a writer.
"To believe in yourself is very important, and very, very difficult," Gregerman said of the struggle writers face to receive validation. Yet she clearly states that trying to get published is a great way to do just that.
Her own book, entitled "Jealousy and the Things You are Not," was released for publication in October by a small company in Washington called the Owl Creek Press. The collection of poetry was also a finalist in several prestigious first book contests including the Yale Series of Younger Poets and the National Poetry Series.
According to Gregerman, the poems in the book are mainly love poems and poems of geography. Her favorite is "Baltimore," a poem about her hometown.
"The night for its sounds, when the family is still up, has kissed me and released me to live my life."
Her words in this poem and its message from her childhood relate to both her writing and teaching styles. "A lot of times I found that I go back to the instincts I had in the beginning," Gregerman said.