Flowers spearheads ASU defensive attack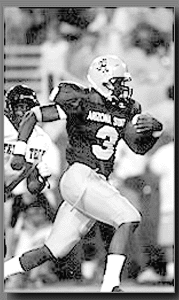 Arizona Daily Wildcat
Photo Courtesy of of Arizona State Sports Information Department ASU senior tailback J.R. Redmond celebrates a touchdown in an earlier game against USC. Redmond leads the Sun Devil offense, averaging 108 yards per game, and also will see time at defensive back and punt returner against Arizona on Saturday.
Last season's Arizona State-Arizona game was a shoot-out, to say the least.
The two teams combined for 1,169 yards in total offense, with ASU quarterback Ryan Kealy passing for 511 yards and UA running back Trung Canidate rushing for 288 yards on just 18 carries in the Wildcats 50-42 win in Tucson.
This fierce intra-state rivalry will be rekindled this Saturday and promises to be just as intense as last year's game, if not as high scoring.
"Last year was my first time playing, and I really didn't understand the rivalry until I stepped on the field and it was like this energy and raw emotion from each team," ASU senior rush end Erik Flowers said. "I expect the same this year."
ASU enters the game with all key offensive players from last year returning, although injuries have hampered the Sun Devil attack this year.
Tailback J.R. Redmond, an NFL prospect, enters the game as the No. 3 rusher in the Pac-10 and the 17th in the nation. Redmond is averaging 108 yards on the ground and has been named First-Team Pac-10 in three areas throughout his tenure at ASU (running back in 1998, return specialist in 1998 and all-purpose player in 1997).
The Sun Devils feature an equally impressive and equally potent passing attack guided by junior quarterback Ryan Kealy, who has been plagued by injuries this season but he has been healthy as of late and enters the game with no ailments.
After putting the injuries behind him after the first four games of the season, Kealy has put up some big numbers in his past six outings -106 of 194 passing for 1,202 yards and six touchdowns. However, Kealy has been prone to interceptions, throwing nine in the past six games.
ASU wide receiver Tariq McDonald, Kealy's high school teammate, is second on the team with 23 catches despite seeing a limited amount of time in the past two games due to an ankle injury.
Tight end Todd Heap has been recognized as the best tight end in the Pac-10, and rightfully so. He has a team leading 43 receptions this season for 629 yards. He ranks sixth in the nation among tight ends in catches and fourth in receiving yards.
The Sun Devil defense is spearheaded by outside linebacker Adam Archuleta who has recorded double-digit tackle performances in six of his past nine games. Archuleta has 19 tackles for a loss this season and is second on the team with five sacks.
Up front, Flowers, a junior college transfer, has become one of the Pac-10's best lineman. He is tied for fourth in the league with nine sacks and is third on the team with 53 tackles.
Flowers is concerned with the Wildcats backfield, namely the mobility of both UA quarterbacks.
"Their offense has been hurt by turnovers, and they haven't been inconsistent," Flowers said. "They've put up 500 yards in total offense the past couple of weeks.
"Both quarterbacks run very well, and Trung can break it anytime."
The ASU secondary features senior cornerback Courtney Jackson, who, against Oregon, made 13 tackles and had an interception to go with two pass deflections. He can play both safety and cornerback.