Women's hoops returns from Hawaii victorious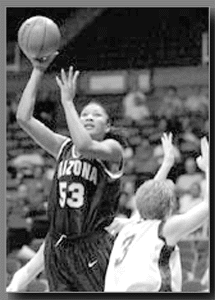 Associated Press
Arizona Daily Wildcat
Senior forward Tatum Brown goes up for a shot against Hawaii in Sunday night's 86-73 victory over the Rainbows. The Wildcats swept three games over Oklahoma, Tennessee Tech and Hawaii at the Hawaiian Regent Wahine Classic in Honolulu, winning the tournament.
After winning the Hawaiian Regent Wahine Classic with victories over Oklahoma, Tennessee Tech and Hawaii, UA women's basketball head coach Joan Bonvicini said that she is delighted with the manner in which her team performed over the weekend.
No. 24 Arizona downed Hawaii in the title game on Sunday evening 86-73 after beating Tennessee Tech 87-71 on Saturday and Oklahoma 75-59 on Friday.
The tournament marked the season's opening, as the Wildcats move to 3-0.
"We were very focused this weekend, the team came out and played well over the three games," Bonvicini said. "We were able to display that our team has excellent depth and that we have so many different weapons that it confuses each team that we go up against."
One of those weapons that was certainly prevalent through the weekend was sophomore forward Elizabeth Pickney.
Over the three-game span, Pickney lead the Wildcats in the scoring column, averaging 18 points over the three games. Pickney averaged 11.4 points per game a year ago.
"I am impressed with the very good games Liz had this weekend," Bonvicini said. "For the most part, she is a quite scorer, but is very efficient. She showed that she is a powerful force inside to be reckoned with."
Complimenting Pickney's scoring presence was senior forward Angela Lackey who missed the first game due to a suspension for a "violation of team rules" but returned in commanding fashion.
Upon returning in Arizona's second game against Tennessee Tech, Lackey scored 14 points and added 15 the following night against Hawaii.
"Having Angela back made a big difference for us," Bonvicini said. "She gives us a totally different look at the forward position. She really is a complete player, as she has more moves and can take it to the hoop with force."
Lackey averaged 14.4 ppg and 5.4 rebounds per game last season in a starting role, but began the 1999-2000 season by contributing off the bench.
Bonvicini also added that she was pleased with how the team performed in tournament format.
"We demonstrated the ability to adjust to each team that we faced," Bonvicini said. "We didn't have time to relish in our victory because the next game was around the corner and we had to practice and begin preparing for it."
While Arizona spent most of their time playing and practicing, they also took some time to see the sights.
"We toured the U.S.S. Arizona and Pearl Harbor and had some time to look around town and shop," Bonvicini added. "For the most part though, we were focused on the games and spent much time getting ready for them."