Good-bye, Aloha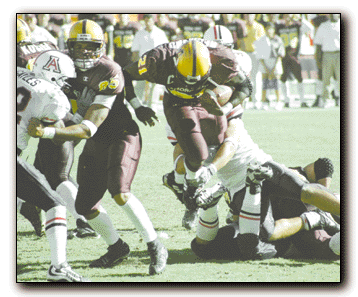 Matt Heistand
Arizona Daily Wildcat
ASU's senior running back J.R. Redmond runs over the UA defense during Saturday's 42-27 victory over the Wildcats. Redmond carried the ball 23 times for 112 yards and a touchdown, leading the Sun Devils to a victory and a berth in the Aloha Bowl.
It was a season summed up in a single game.
The defense couldn't tackle as a whole, while the front seven couldn't penetrate consistently and the secondary couldn't cover anyone.
The special teams' kicking was awful, their ability to block and cover wasn't there.
The offense couldn't execute when it mattered most and couldn't put together a solid drive until it was too late.
And once again, UA forced no turnovers.
All of that added up to a 42-27 loss for the Arizona football team to archrival Arizona State.
But the UA players would not let any of it be their excuse for losing.
"In a way, but you really can't look at it and try to blame it on any one thing," senior free safety Rafell Jones said. "Or say it's been happening the whole season so it's bound to happen now. It's one of those unfortunate things, an unfortunate situation where it happened before and it came down to a game where we needed to overcome all that adversity, all the past, and step up and come to the plate. We weren't able to do that, you see the results."
The Wildcats, a preseason No. 3 team in the ESPN/USA Today poll, finished 6-6 overall and 3-5 in the Pacific 10 Conference.
A season which was supposed to end in the Rose or Sugar Bowl instead ended in Tempe to the Sun Devils (6-5, 5-3).
"I've felt a lot of disappointment in my life, but at this moment, no," Jones said in response to the fact that he has never been as disappointed in his life than after the game.
UA head coach Dick Tomey summed up the game with an uncharacteristically straight-forward response.
"Well I thought the best team won," he said. "That's what usually happens. I thought we did some good things, but not nearly enough good things. We just didn't make enough plays. I thought they made plays when they had to, particularly on third down."
The Sun Devils racked up 558 yards of total offense, unleashing every weapon in their arsenal.
Running backs J.R. Redmond (23 rushes, 112 yards, 1 TD) and Delvon Flowers (15 rushes, 103 yards, 2 TD) chewed up the UA defense on the ground.
"They said they were going to pound our ass and they pounded and ran it," UA senior linebacker DaShon Polk said. "They got the firsts when they needed them, they scored when they needed it, but we didn't make the plays and it has been like that all year, it really sucks."
At the same time, quarterback Ryan Kealy (14 of 22, 287 yards, 2 TD) targeted wide receiver Richard Williams (six receptions, 149 yards, 2 TD) through the air.
But the hardest man for the UA defense to tackle was ASU tight end Todd Heap, who caught seven passes for 170 yards and a touchdown.
"It was hard," Jones said. "He's a big object, catching the ball in stride, running hard. (But) it just comes down to missed tackles, a lot of missed tackles. They wanted it more than us and as an individual he wanted it more than us."
The Wildcats' offense had some big plays, including an 80-yard touchdown run by senior running back Trung Canidate, an 80-yard touchdown pass from senior quarterback Keith Smith to senior wide receiver Dennis Northcutt and Northcutt's 81-yard punt return for a touchdown.
But that also showed how the UA offense couldn't put together a consistent drive at any point in time until it was too late.
"Other guys including myself, we just had to make more plays," Canidate said. "But they took the game and I give those guys credit."
Smith ended the game and his career limping off the field after being sacked by ASU's Erik Flowers.
"It is okay, just a sprained MCL, nothing major, thank God for that," Smith said. "But, it is miserable to go like that. I don't know what I am thinking right now because I am trying to figure out if this is my last football game ever. I don't know what (the future) holds for me afterwards. I hope it's not (over) but to go against a loss to these guys, it sucks. They beat us in every way tonight and that is the bottom line."