Taking Gotham by storm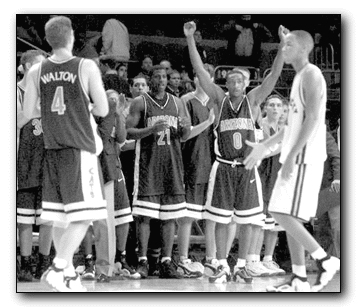 Associated Press
Arizona Daily Wildcat
Gilbert Arenas (0) raises his arms as Kentucky's Tayshaun Prince, right, offers his hand to Luke Walton, at the end of Arizona's 63-51 victory in the Preseason National Invitation Tournament Championship game at Madison Square Garden in New York on Friday. Arenas had 20 points and was named MVP as the Wildcats won their third Preseason NIT title.
They weren't supposed to be able to handle the pressure in one of the nation's top preseason tournaments in the world's most famous arena.
But after two games over Thanksgiving in New York, freshmen guards Gilbert Arenas and Jason Gardner could call New York theirs.
Arenas was named the tournament MVP after scoring 20 points in the 63-51 win over Kentucky in the championship and 15 points in the 76-60 semifinal victory over Notre Dame.
Gardner showed his range by hitting NBA three-pointers and scored 10 and eight points against Kentucky and Notre Dame, respectively.
"We've never had two like them coming in at the same time," Olson said. "They don't play like freshmen."
The duo, who dubbed themselves Batman and Robin earlier in the season, showed Arizona fans how good they can be over the next few years during earlier games at McKale Center. At Madison Square Garden, the pair showed the nation that they are ready to do good things now.
"They're two freshmen in the backcourt playing a tremendous program in Kentucky, at Madison Square Garden and on ESPN," senior guard Josh Pastner said. "Of course it's going to take some time for them to get their feet wet, but they got it going for us in the last few minutes of the first half. By half-time, we were able to open up the gates."
Despite the fact that sophomore forward Michael Wright watched most of the championship game from the bench in foul trouble and junior center Loren Woods had only eight points, Arizona found guys who were happy to step up. Among them were sophomore forward Richard Jefferson, who had 15 points, junior forward Justin Wessel and redshirt freshman forward Luke Walton.
"The great thing about the win was even though a great player like Michael Wright didn't play, other guys stepped up and picked it up," Pastner said. "There's been times where Mike has played a great game and maybe some other guys weren't, and carried the team. This time, it was the other guys' turn."
Both teams shot poorly throughout the game, as Arizona shot 39.7-percent from the field compared to Kentucky's 35.6. Arizona shook off its nerves and opened things up towards the end of the first half, going into the locker room with a 29-25 lead.
Arizona went on an 11-0 run midway through the second half, a lead that Kentucky would never catch.
"Our ability to score off widespread offense saved us," Olson said. "If anyone told me we'd get only two points from inside men, I would think they were crazy."
The win marks Arizona's third Preseason NIT championship -1990, 1995 and 1999. The Wildcats have an overall record of 12-1 in the tournament.
In Wednesday's semifinals, Arizona's depth was too much for the Notre Dame Fighting Irish, especially down low. The Wildcats advanced to the championship with a 76-60 win.
Wright finished with 22 points and 11 rebounds, while Woods had 13 points, 10 rebounds and seven blocks, which tied a school record.
Jefferson had 13 points and seven assists, while Arenas scored 15 points.