Wildcats finally put Lobos to sleep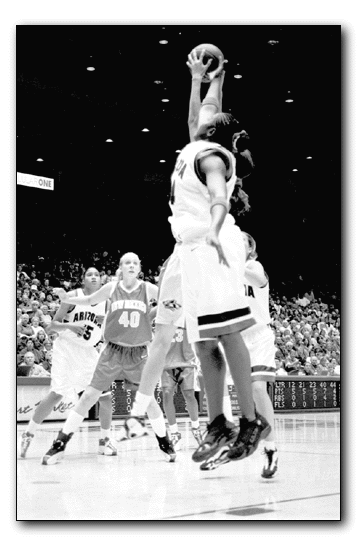 Arizona Daily Wildcat
Photo by: MATT CAPOWSKI
Senior forward Angela Lackey goes up for a rebound with a New Mexico player during Saturday night's 74-63 UA victory. Lackey scored 16 points off the bench for the Wildcats, helping the team to its fourth win in a row.
In a relatively close game, the pressure defense from the Wildcats proved too much for the New Mexico Lobos to handle in the final minutes on Saturday night.
With back-to-back steals by senior guard Lisa Griffith, UA (4-0) was able to pull away from a pesky Lobo squad defeating New Mexico (2-1) with a late 8-0 run, putting the final score at 74-63.
UA was led by senior forward Angela Lackey, who had 16 points off the bench. Seniors Tatum Brown and Felecity Willis both pitched in 14 points and Brown also grabbed nine rebounds.
New Mexico had a stellar performance from freshman Jordan Adams, who had 16 points and 13 boards.
The Lobos came out in the first half with crisp ball movement in an attempt to foil the zone defense of Arizona. It worked as they led at the half, 40-37.
Down 43-39, a set-up pass from Willis to sophomore forward Elizabeth Pickney started an 11-point run to open the second half for the Wildcats.
Brown helped lead the resurgence by hitting the glass, grabbing five offensive rebounds in the second half.
The Lobos, though, would not go away.
Missed opportunities and fouls allowed the UNM to creep back into the game.
The outcome was still in doubt with three minutes left in the game. But, with the score at 64-61 in favor of UA, the Wildcat press finally wore down the Lobos and UA coasted the rest of the way, going on a 10-2 run to end the game.
"I was really disappointed with defense and rebounding until the last few minutes of the game," UA head coach Joan Bonvicini said. "I think that is the sign of a good team that we can not have our best game and still win."
Brown agreed.
"I was really pleased with the way we picked it up in the second half," she said. "We took care of the ball more, had better rebounding and took better shots."