A double-edged sword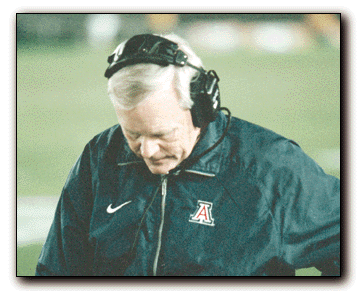 Matt Heistand
Arizona Daily Wildcat
UA head football coach Dick Tomey walks the sidelines during the game at UCLA earlier in the season. Tomey acknowledged that he and other UA officials were prevented from publicly defending senior offensive tackle Manuia Savea after his recent arrest on suspicion of domestic violence.
Three times this semester, University of Arizona football players have had runins with the law, and each time, UA officials chose to remain silent.
But UA Athletic department employees are now questioning whether privacy regulations - which they said left them gagged -are beneficial to student-athletes.
The first situation involved three newcomers to the program - freshman Bobby Wade and sophomores Zaharius Johnson and Anthony Banks - who reportedly stole money out of the hands of a CatCard office employee.
The two more-recent cases involved accusations of domestic violence against seniors Leland Gayles and Manuia Savea.
After all three incidents, the UA Department of Intercollegiate Athletics remained silent in regards to the part it played in the investigations and subsequent disciplinary actions.
The Athletic department 's silence stems from an Arizona Board of Regents opinion that any investigation into a student-athlete's criminal actions are part of an academic record and protected by the Family Educational Rights and Privacy Act of 1974.
"When it comes to student records and things involving students, that's private information," said Hank Amos, board of regents president. "By law we're not allowed to disclose that. We just have to follow the law."
Legal Restrictions
The Athletic department acknowledges that by keeping information sealed, unfounded public speculation could occur.
"There are many times when we're tied to FERPA when we'd feel more comfortable sharing the facts," said UA associate athletic director Kathleen LaRose, who is in charge of the department's disciplinary process. "Or to have an opportunity to clear up any inaccuracies that may have been printed or said. Or to show just how seriously we take these issues and how thoroughly we look into them so the public understands that we don't want these things to happen any more than they do. It is a double-edged sword."
The more recent of the two reported domestic violence incidents occurred Oct. 20 when police responded to a call from a neighbor who heard a disturbance at the home of UA senior right tackle Manuia Savea. Savea was reportedly involved in an altercation with his wife while the couple's three children were present.
The Tucson Police Department responded and arrested Savea on suspicion of domestic violence assault, domestic violence damage and contributing to the delinquency and dependency of a minor. TPD policy states that the suspect must be arrested and removed from the scene in domestic violence incidents.
The Athletic department and football head coach Dick Tomey said FERPA prevented them from commenting in an effort to refute the charges, even after Tomey and Athletic Director Jim Livengood had interviewed Savea and his wife to discuss the situation.
"We can't defend the player," Tomey said. "Yet that's the right to privacy. That's what we've been told from the board of regents' perspective and the university's. We can't get into it, we can't get into the details, particularly if it's a case and there's two sides.
"However, we are responsible to look into it as best we can and make a determination on our own as to what we think is appropriate based on other cases we've dealt with over the years."
Livengood said he was disappointed in the way the case was portrayed in the media because of information he and Tomey could not make public.
"Manuia was not a domestic violence case," Livengood said. "It was not domestic violence, just period and that's all I can say about it. It would have been a whole different outcome if there had been any evidence (of violence) whatsoever."
Complaints with the media
Savea said he was not pleased by the way the local media covered the case, though he did understand that by not commenting on the affairs, the media's sole source of information was the official police report.
"That's the thing that upset me and upset my wife," he said. "All the things they put up there in the media, none of them are true. The only person that knows the real story is me and my wife and the head coach. Those are the only three people that know the full story. I don't think Coach Tomey would put something out there, I don't think whoever talked to my wife would put something out there that's not true. That's what upset me."
Livengood agreed.
"That's a case right there where FERPA really hurts us," he said.
"It protects students and I understand the reason for it but it really hurts us," he said. "That would have been a situation where it would have been, had it been legally justifiable or legally okay to do it, it would have been great to say here's who we've talked to, here's all the information we have, here's what we've found out."
With the information he had, Tomey said he determined that Savea should not be suspended despite his arrest.
Livengood defended the move by saying the facts of the case - had Tomey been able to make them public - cast doubt on the accusation that Savea had acted violently toward his wife.
"Had anyone who had been a part of that been able to speak about it, it would have ended up being a non-story," Livengood said. "There's a fear of someone getting away with something or that the Athletic department doesn't care. Those accusations never have been true nor will they ever be. We've suspended some of the best players in every sport. That's never been an issue. It's not an issue with Dick. In the situations we've had with football that's never been a factor."
UA policy aims to help students
Livengood said he does not believe in the notion that a player who is arrested should automatically be suspended, a policy held by other schools including the University of North Carolina at Chapel Hill and Arizona State University.
"I think that there's nothing that's automatic," he said. "Most of the time when there's an arrest and we know the information players have been suspended here as well. I think that's a no-brainer. But nothing's automatic. Our code of conduct gives us a lot of leeway."
The board of regents' student code of conduct, which the UA Athletic department uses in its student-athlete handbook, focuses on what constitutes wrongdoing by a student-athlete.
It does not mention potential punishments, leaving that up to the individual institution's Athletic department and head coaches.
Livengood said he sat on a committee of the National Association of Collegiate Directors of Athletics, where he and other directors discussed the importance of dealing with cases individually.
"It really needs to from this standpoint," Livengood said. "It's just that every case is so different - it can't be open or shut. It would make things much easier from a media standpoint, much easier from a public standpoint. But that's not the way it is."
ASU enforces automatic suspensions
ASU has a different policy. If an athlete is arrested for any offense, "they're immediately suspended and then the conduct committee reviews the case and it's reviewed thoroughly," said Sandy Hatfield-Clubb, the ASU associate athletic director for student services.
"There are two levels of penalties under our conduct policy," she said. "There's what's called a secondary offense and a primary offense. If it's a misdemeanor, underage alcohol, minor in possession or something along those lines, there's one set of penalties. But everything is an immediate suspension if there's an arrest involved until the investigation by our department can take place."
LaRose said such a policy can be more harmful than beneficial if the circumstances aren't clearly in favor of the student-athlete being guilty.
Department officials must decide on a case-by-case basis what should be done, based on talking to police and the student athlete, LaRose said.
"We try to keep in mind that we're doing the best we can. We try to control student-athlete behavior but they're only under our watchful eyes so many hours out of the day," she said. "We realize people make mistakes and we try to help them learn from those mistakes and make sure they don't happen again. But we're also cognizant of the fact that if it's a severe incident we need to act accordingly and we will."
Chris Jackson can be reached at Chris.Jackson@wildcat.arizona.edu.