Wildcats escape with win over Gauchos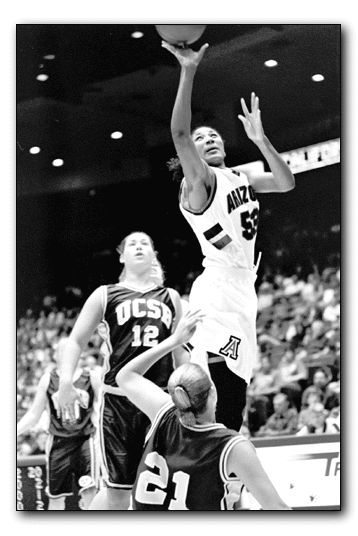 Joshua D. Trujillo
Arizona Daily Wildcat
Senior forward Tatum Brown goes up for a lay-up during the Wildcats 86-76 victory over the UC Santa Barbara Gauchos last night at McKale Center. Brown, who had a career-high 21 points, helped the 21st-ranked Wildcats keep its win streak alive at five by beating the 15th-ranked Gauchos.
With a career-high scoring attack by senior forward Tatum Brown, the No. 21 UA women's basketball team held off late runs by the No. 15 UC Santa Barbara Gauchos last night to win 86-76, extending the Wildcats' win streak to five.
After narrowing the game to four points with just one minute remaining, UA junior guard Reshea Bristol and senior guard Lisa Griffith had steals and were fouled in transition. Each player made both of her foul shots to close out UCSB.
Leading the way past the Gauchos through the game was Brown, who notched a career-high 21 points on 9-of-12 shooting from the field.
"I was just really focused, I want to do well offensively and defensively because I know they have good posts, so I knew that you had to be on your P's and Q's," Brown said. "I just wanted to come out and do well."
Bonvicini said she was pleased with Brown's performance.
"Tatum Brown was incredible; she had an unbelievable game," Bonvicini said.
If credit for the win should fall into anyone's hands, players and coaches agreed that along with Brown, the depth of the bench kept UA in the game.
"The other coaches are thinking, 'what can we do,' because I am sure they see me and Reshea and Angie (Lackey)," senior guard Lisa Griffith said. "We have five, six, seven people that can come in (off the bench) and play, so you can tell when their shots start missing, that's when we start our runs. You can see it in their faces, nobody wants the ball and that is when we say, 'come on, let's go get them.'"
Aiding in the Wildcats' victory was their red-hot shooting, as they managed to make 63 percent of their shots, including 75.9 percent in the first half.
"We shot an incredible percentage all the way around tonight, and we needed it because we didn't rebound well," Bonvicini said.
The Gauchos, though, controlled the glass, gathering 36 rebounds, 23 of which were offensive.
Sophomore guard Julie Brase, who had 14 points, contributed in ways that the box score cannot reflect.
"Julie Brase, this was her high-point game for the year," she said. "She does so much and so many of the little things that don't show up in the statistics, on tipped balls, so many little things. She is just a tough kid."
Brase said her providing a spark for the team came from the energy of her teammates.
"Our intensity was good, and we all came together to work through this one," Brase said. "We were excited out on the court, and we all felt the energy when we were able to get runs together."
Even though the Wildcats jumped out to a 16-point lead in the second half, the game was never in control.
Through the majority of the first half UCSB led, but Arizona overtook the Gauchos with a jumper made by Bristol with four minutes left in the half.
"You have to really credit them, because even when we had a good lead, they never stopped," Bonvicini said. "I wasn't comfortable with this game until the game was over."