Album Review: Third Eye Blind, Blue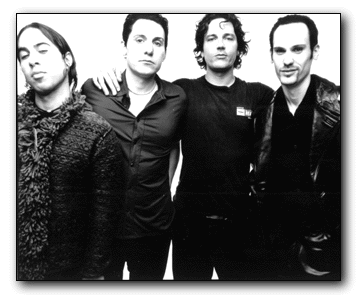 Arizona Daily Wildcat
Photo courtesy of Elektra Entertainment Third Eye Blind (from left: Arion Salazar, Kevin Cadogan, Stephan Jenkins and Brad Hargreaves) attempt to once again saturate the airwaves with their sophomore release, Blue.
Elektra
Third Eye Blind, led by pretty boy Stephan Jenkins, once again perpetuates the cookie-cutter "alternative-rock" vibe that has saturated the airwaves since the early '90s on their sophomore release, Blue (as if their self-titled debut wasn't enough already).
The quadruple-platinum success of Third Eye Blind (remember "Semi-charmed Life?") brings a certain pressure to repeat, and with the way things are going in the music industry these days, a plethora of teens will snatch up Blue the first chance they get.
Regardless of sales, respect must be earned, not bought. The first trite single off the album, "Anything," finds Jenkins wailing over a punky-pop melody about "Jackie O with the top down open/All the words to what's unspoken/Put together everything that's broken" or something like that.
It really doesn't matter. On the magnum rock song "The Red Summer Sun," Jenkins screeches like a youthful Axl Rose decked out in a flannel shirt and blue bandana - the song itself sounds like an homage to all of the monster rock ballads of hair metal bands like Mr. Big and Warrant released a decade ago.
The remainder of Blue's songs are very reminiscent of their last album, with a few radio-ready tracks that will spin the record into the mainstream (i.e. lots of sales) and some less-than-ready radio songs that find the pouty Jenkins singing about some lost love, a girl he wants to call on the phone, or worrying about a possible pregnancy.
"I got a big surprise/She said, I'm in trouble now and it cannot wait/She's 10 days late." Ugh. The last thing the world needs is a mini-me Stephan Jenkins running around. -Barry McGuire