A moment of pause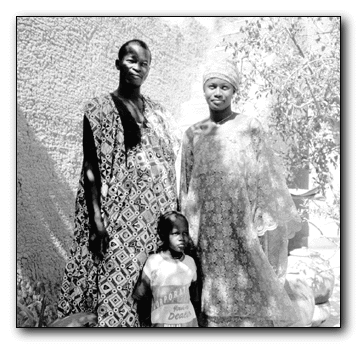 Arizona Daily Wildcat
Photo courtesy of Lynn Davis Lynn Davis photographs a family in Mali, one of the many African countries ravaged by the AIDS pandemic in Africa.
As the century comes to a close, people are looking back to what the last 100 years have yielded. Penicillin, airplanes and the Internet are some of the positive innovations, but with them has come such tragedies as the Holocaust and AIDS.
It is important that these be remembered now and in the next century, and that is why the Center for Creative Photography is commemorating World AIDS Day today. The CCP is participating in the 11th anniversary of a Day Without Art, a day of action and mourning for the ongoing crisis of AIDS.
For each hour in CCP's 9 a.m. to 5 p.m. schedule, there will be 10 minutes when the gallery is darkened and only the Lynn Davis exhibit will be lit. The center's goal is to "establish a contemplative setting so people can think about the impact of the AIDS virus in the art world and the continent of Africa," says Nancy Solomon, CCP director of publications and public information.
CCP has fused the content of its latest exhibition, Lynn Davis' "Africa: Photographs," a series of large-scale photographs of Africa's sacred sites, with the commemorative nature of a Day Without Art.
"A Day Without Art, when it originated, meant museums were going to close, and not be available to the public, and be memorial. The CCP has not done in that way. We use the art to make that statement," Solomon said.
CCP capitalizes on the fact that the African continent is both the subject of the Lynn Davis exhibit and the origin of the AIDS virus. Moreover, Africa is one of the areas of the world most devastated by the virus due to the lack of public awareness of the epidemic. During the 10 minutes of darkness, a voice will describe the impact of the AIDS virus on the African continent.
According to an Oct. 10 Boston Globe article regarding the AIDS epidemic in Africa, two million sub-Saharan Africans died last year of AIDS, more than five times the rate of U.S. AIDS-related deaths since the discovery of the disease.
Of the 11 people worldwide infected every minute with HIV, 10 of them reside in the sub-Saharan African region. South Africa leads every other country with the most new infections every day at 1,600. The disease has ravaged across the continent at pandemic proportions.
Considering such mammoth statistics, the CCP has provided a place for such reflection. The center will be offering a place to sit where patrons can contemplate the devastating effects this disease has had on the 20th century, and what lies ahead without public awareness, education and preventative measures. The CCP will be making and handing out red ribbons, the AIDS symbol of hope, to gallery visitors.