UA begins hectic schedule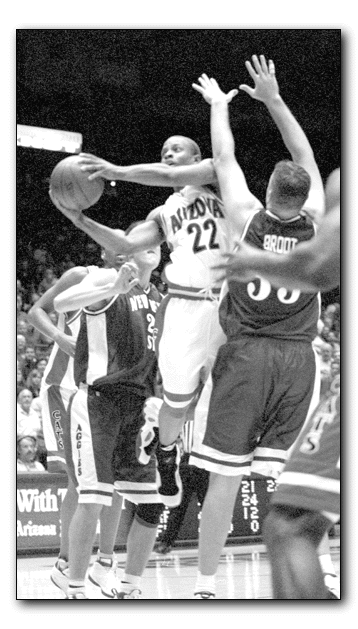 Nicholas Valenzuela
Arizona Daily Wildcat
Freshman point guard Jason Gardner goes up in the lane for a lay-up against New Mexico State earlier in the season. The Wildcats hit the hardwood tonight against BYU for the first game in their stretch of five games in two weeks.
The UA men's basketball team begins a busy stretch of its schedule - which sees them play five games in the next two weeks - tonight when they host Brigham Young.
Tip-off is tonight at 9 at McKale Center.
The Wildcats took a well-deserved day off yesterday to rest their legs. Weather and mechanical problems made the team's plane arrive late in New York last week, but Arizona still managed to knock off Notre Dame and Kentucky to win the Preseason National Invitation Tournament. Now, a stretch of games against BYU, Texas, Connecticut and Michigan State, as well as final exams, awaits them.
A 4-0 start to the season can be thanked to the team's defense, but December is the time where you have to start executing on the offensive end, and with the last week of classes and finals to go along with its busy schedule, you would think Arizona would be overwhelmed.
"I'm having fun," freshman guard Gilbert Arenas said. "I just try to keep it so I won't get too serious. I just think every game is tough, I don't look at where you stand or care who's No. 1 or 2."
It's not hard to believe what Arenas says, since he is as cool and collected as most upperclassmen on the floor. He was the MVP of the Preseason NIT by scoring 20 points in the Wildcats victory over Kentucky in the championship game, even though it was his first time playing at Madison Square Garden.
Arenas, though, has not only been sparking the Wildcats on the offensive end, he has been just as tenacious on the defensive end, which has proved contagious for the rest of his teammates. Arizona has been pressuring its opponents and forcing turnovers, allowing for easy transition baskets.
"If I were to look at our progress at this point, defensively we're doing a good job, there's certainly a lot that needs to be done as other teams' offenses get in gear," head coach Lute Olson said. "The defenses are generally ahead of the offenses at this point."
Redshirt freshman forward Luke Walton says the team has been having fun and taking care of business at the same time.
"This year, it's team defense," he said. "We just all want to help each other. This year, when we see someone get open, we collapse to them and that's a lot different than last year's team."
While the focus has been on the team's play on the defensive end, don't let that fool you into the fact the players actually like doing it.
"I wouldn't say that," Arenas said. "No team likes playing defense."
As for the game against BYU, there may have been some bad blood between the two teams last year, when redshirt senior Eugene Edgerson elbowed BYU's Bret Jepsen and was suspended by the team for one game. The Wildcats eventually won the physical contest, 78-74 in overtime.
Don't expect that to carry over into this year's game, since neither of the two will be playing. Edgerson is redshirting this year and Jepsen stopped playing because of recurring headaches caused by the elbow.
Instead, BYU plays much like Notre Dame, a team that has a good balance inside and outside. The Wildcats must hold the Cougars to a low shooting percentage, something they did well at in Preseason NIT games. Kentucky, for example, was held to 35.6-percent shooting from the floor.
"BYU will create some more problems for us," Olson said. "They shoot the three well, they have good, solid interior play, so it'll be a case of where we'll have to defend inside and out probably more like what we dealt with Notre Dame."
The Cougars are 2-0, with easy wins over UC-Riverside and Southern Utah, but will be eager to find out what they're made of tonight in a hostile environment.
"They've blown a couple people out, so I'm sure that there looking at this as a great opportunity to come in and get a barometer on where they stand right now," Olson said. "I'm sure they look at this as their first true test. They play hard, they play well together as far as inside and outside."
Sophomore forward Richard Jefferson, who is averaging 13.5 points and 6.5 rebounds per game and has been one of Arizona's most consistent performers this year, believes UA can create too many match-up problems for BYU.
"They are a scrappy team, they're solid," he said. "I think we are better at all five positions, especially in our starting five, and if we just go out there and play hard and play consistent, we'll be fine."