TA petitioning ends, students voice support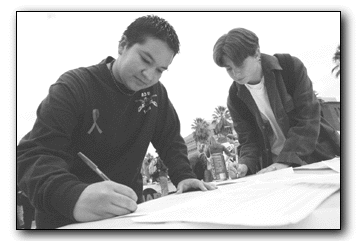 Kristy Mangos
Arizona Daily Wildcat
Music freshman Laura Ybarra (left) signs a petition with physics freshman Wendy Sampson supporting improved pay and benefits for graduate teaching and research assistants yesterday on the UA Mall. Around 200 signatures have been obtained so far and the petition will be presented to UA President Peter Likins today.
As the petition drive for UA graduate assistants seeking improved pay and benefits wrapped up yesterday, organizers declared the drive a success, mainly because of support from fellow students.
Students - undergraduate and graduate - stopped by the table on the University of Arizona Mall to sign the petitions and offer words of support, said Masami Gross, second year political science graduate student and one of five students gathering signatures.
"We've gotten so much support from the undergraduates," Gross said.
Gross estimated 200 students, faculty and staff members signed the petitions on the Mall, and many more signatures have been collected from petitions circulated throughout university departments, such as the Department of Spanish and Portuguese and the Center for Computing and Information Technology.
The petitions, as well as a manifesto detailing the same demands, will be presented to UA President Peter Likins today.
Adrienne Crump, a women's studies graduate student, said many students from her sophomore-level Women in Western Culture class appreciate and sympathize with the work she and other TAs provide for them.
"They ask me how many hours I have to work and are always surprised (by the answer)," said Crump, adding that she puts in 20 to 25 hours each week.
Garrett Orton, a biochemistry freshman, said graduate assistants deserve higher salaries and better benefits.
"It seems like they do enough," he said. "They're not specifically asking for a whole lot."
However, Gross said a few students have argued with the petitioners. Last week, two post-doctoral students sat down with the group and asked them why they were requesting better benefits when the low-income lifestyle of graduate assistants has long been the norm.
One student accused the group of being too demanding.
"One guy yesterday thought we were asking for too much. He was a student, but not a GA (graduate assistant)," Crump said.
Still, the majority of visitors to the petition table were sympathetic, Gross said.
English and creative writing freshman Grant Simpson said he supports the graduate students' issues because he is planning to attend graduate school as well.
"I know myself, I'm only a freshman, but I have plans to go to graduate school," he said. "I know I'm going to be in that position in a couple of years."
Simpson said graduate teaching and research assistants, being state employees, should be guaranteed the same benefits any state employee receives.
"It's only fair," he said.
UA graduate students earn an average of $5,000 per semester, $1,200 of which is immediately returned to the university to cover tuition. UA does not offer registration fee or tuition waivers, and provides health insurance to graduate students, but not to their dependents.
Graduate students also are not guaranteed child care benefits, even though many of them have families.
"Some students are surprised we don't have this stuff already. When they realize we don't, it's a surprise and they want to support it," Crump said.
However, these are familiar issues to Liz Bashore, a second-year art education graduate student who signed the petition.
"As an art educator, and a future educator, it's not good to feel you're at the bottom of the barrel," said Bashore, who works as a teaching assistant. "I see a lot of (pay) discrepancies. This college isn't really offering competitive assistance to people who are going to graduate school here."