UA programs commemorate 12th Annual World AIDS Day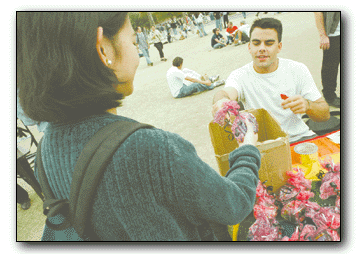 Kristy Mangos
Arizona Daily Wildcat
MIS senior Jacob Rigoli passes out a "love gram" to psychology senior Sam Dedios yesterday on the UA Mall in honor of World Aids Day. The "love gram" contained candy, condoms and lubricant.
UA programs offered free AIDS testing, information about the disease and "love gram" packages - containing candy, condoms and lubricant - on the Mall yesterday, as part of the 12th Annual World AIDS Day.
Representatives from the University of Arizona Campus Health Center, the Bisexual, Gay and Lesbian Association and the University Activities Board participated yesterday to spread awareness about the HIV virus.
They passed out red ribbons to commemorate people with AIDS, answered questions and offered students the opportunity to share how they have been affected by the disease on a bulletin board.
Jacob Rigoli, a BGALA member, said he also wanted UA students to realize that the HIV infects not only homosexuals, but all people - regardless of their sexuality.
"It's not discriminatory - it could happen to anyone," said Rigoli, a management information systems senior. "It's one of those myths that needs to be dispelled."
Lee Ann Hamilton, a health educator at Campus Health Center, said college students are more susceptible to contracting HIV and other sexually transmitted diseases because they are more likely to experiment sexually and have multiple partners.
Hamilton said 12 UA students reported having the HIV virus in a survey conducted during the spring by Health Promotion and Preventative Services, a unit of the Campus Health Service. The survey polled 1,766 UA students.
"The number gives us an idea how many people know they are (HIV) positive out of 1,766," she said.
Even more UA students could have HIV and be unaware because they haven't been tested yet, she said. Hamilton said the figure was about the same as other universities.
She added that 27 percent of the students questioned in the survey reported they were virgins.
"I think that surprised people," she said. "I think more people are choosing to wait (to have sexual intercourse)."
In addition to answering questions about the disease, BGALA provided free, anonymous HIV testing yesterday at its office.
Sherry Nachman, animal sciences freshman, said she wanted take advantage of the service.
"Just to be safe I want to get tested," Nachman said. "There are a lot of diseases in this school and all colleges."
Hamilton said UA students can reduce the risk of contacting HIV by avoiding anal and vaginal intercourse and choosing lower risk activities like manual stimulation, where bodily fluids aren't exchanged.
She also said students should use condoms consistently, limit the number of sexual partners, take the time to know the partner before having sex and get an HIV test with the partner.
She said students are more likely to contract chlamydia, genital warts and herpes than HIV virus because of how the diseases are transmitted.
Psychology senior Sam Dedios said she donated $1 for the "love gram" because she enjoys supporting AIDS charities. The money will be donated to the Southern Arizona AIDS Foundation.
De Dios volunteered at the Tucson Veteran Affairs Hospital and met a patient with AIDS last year.
"What struck me the most (is) when you don't meet a person with AIDS, you see them on TV, and you don't think they look normal," she said. "It just kind of told me anybody is susceptible."
Dance freshman Meghan Martinez said she would wear the red ribbon she received to show her support for people with AIDS.
"I'm going to make sure whoever I have sex with - we get tested together," Martinez said.
To recognize the world Day Without Art, UAB covered several statues around campus to commemorate the artists who have died from HIV.
"The UAB committee decided to cover up various artwork around campus to commemorate those artists who died of AIDS," said Kate Vesely, UAB films chair and political science sophomore.
The World Health Organization and the Joint United Nations Programme estimated as many as 42 million people have been infected with HIV. Each day the count grows by 16,000, according to the Centers for Disease Control and Prevention.