Bench makes the difference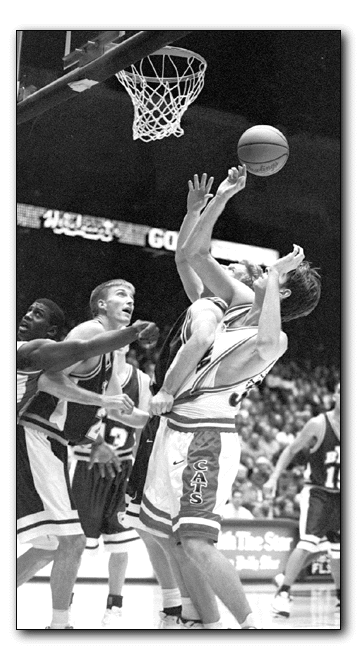 Nicholas Valenzuela
Arizona Daily Wildcat
Sophomore forward Rick Anderson puts up a shot underneath the basket, while getting his jersey pulled by a BYU player. Anderson ignited the Wildcats and the fans last night with 16 points and seven rebounds in just 16 minutes off the bench.
If the UA starting five decides to take a night off, at least it knows the bench can come in and pick up the slack for them.
But that is definitely something head coach Lute Olson doesn't want happening, as evidenced by last night's 86-62 win over Brigham Young at McKale Center.
"It's a win, but if we learn one thing from this - that you have to play with passion," Olson said. "You have to be ready to go the second the ball goes up, and I did not feel that in the first half we played with a lot of enthusiasm."
Sophomore forward Rick Anderson scored 16 points and had seven rebounds in the win, which moves Arizona to 5-0 on the season. Anderson showed a lot of promise in the preseason, but strep throat caused him to lose weight and kept him out of practice for a couple of days.
"I was having a lot of fun," Anderson said. "It's been a long time since I've had fun out there."
Redshirt freshman Luke Walton had eight points and five rebounds, and junior Justin Wessel had four rebounds as the two continued their role of doing the dirty work and making the difference in the game.
Anderson hit a three-pointer with Arizona down 18-10, awaking a sleepy crowd and sparking the Wildcats with the unlikely combination of freshman center Robertas Javtokas, junior guard Lamont Frazier, Anderson, Wessel and Walton on the floor.
"The key thing was some of the guys off the bench came in and played with emotion," Olson said. "Luke Walton came in and was all over the place, getting hands on balls, drawing charges, making plays, and Ricky was making plays. Sixteen minutes, Ricky gets seven boards, three on the offensive end."
Sophomore forward Michael Wright - who rebounded from his one-point performance against Kentucky to record his fourth double-double of the young season - had 19 points and 10 rebounds.
Olson was pleased with the play of Wright and especially freshman guard Jason Gardner, who had 11 points and five steals.
"I thought he was with it the whole game," Olson said. "He was defending, pushing the ball down the court, but I thought our wings were way under-par. I don't know what caused it, but we have guys on the bench who want to play and will play."
Freshman guard Gilbert Arenas suffered from chest congestion and had four points and four rebounds.
Junior center Loren Woods all but disappeared during the second half. After an offensive foul midway through the second half, Woods was pulled and never returned. He finished with nine points and four rebounds in 18 minutes.
"We can't have someone pick up a foul as a result of emotion," Olson said. "He's going to be baited all year long and he has to recognize that."
Woods was clearly not happy with his performance, on the bench or in the locker room after the game.
"I just really can't even comment on this game. It was just a horrible game for me," he said. "My team won, so what can you say? I played terrible, period. That's the only way to sum it up, horrible. That is not beating myself up, that's what everybody in the arena saw - 15,000-plus fans saw me play horrible, just horrible."