Olson reaches yet another milestone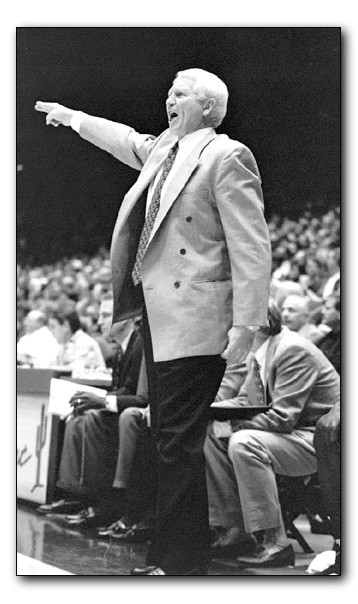 Nicholas Valenzuela
Arizona Daily Wildcat
UA head coach Lute Olson yells across the court to some of his players during the Wildcats 86-62 victory over BYU last night. Olson reached another milestone in his career, winning his 400th game as the head man at Arizona.
Basketball lore may have a place for a tall, white-haired, 65-year-old man who can be seen in a classy blue or gray blazer roaming the sidelines in McKale Center.
The Basketball Hall of Fame in Springfield, Mass. may very well be the next stop for UA head coach Lute Olson, but he will have to wait for that and settle for a few milestones, such as the one he reached last night - his 400th win at Arizona.
With the Wildcats beating Brigham Young 86-62, Olson bettered his record at UA to 400-120 and his overall collegiate coaching record to 592-212.
After the final buzzer blew at McKale Center last night, 1.9 seconds after senior guard/player coach Josh Pastner put a storybook ending to Olson's 400th win with a three-pointer that brought the crowd to its feet one last time, UA Athletic Director Jim Livengood presented Olson with a glass plaque, thanking him for all he has done in his 17 years in Tucson.
Olson graciously accepted the award, but acknowledged that this one isn't any more special than the 399 others, or for that matter the 591 others.
"Frankly, I don't count wins, we're just concerned with the next one," Olson told the few thousand fans remaining in the building. "We just need to get on the road and do our job in Texas."
Texas may be the next stop for the Wildcats, but for one night out of the year, the UA players had the opportunity to give back a little more to the coach that has given them so much.
"It's real good, it's real good to witness this milestone," sophomore forward Michael Wright said. "I saw him, he was smiling, I hope he wins 1,000 of them. I just go all out for Coach O, he is one of my best coaches, he is an excellent coach."
Redshirt freshman forward Luke Walton agreed.
"It feels good, he is a great coach," he said. "When he got his technical today, that got us going too. Jay Gardner, he made a point of saying, 'Coach O is fighting for us, let's fight back for him.'
"We just got a little extra oomph in us, and it just feels good to win games for him too."
Associate head coach Jim Rosborough, who has been with Olson for 11 years at Arizona and nine at Iowa, has been witness to many Olson victories and had his own take on the milestone.
"I have been here for a bunch of them. It is a great accomplishment," he said. "Remember that he got into the head coaching ranks at the age of 38 at Long Beach. If he gets in there at 28, 29 or 30, he'll be sitting right up there with the pile of wins. My stance has been as long as I have been with him since Iowa, he has always been one of the two, three or four best in the business."
Olson's accolades are numerous: one national championship, eight Pacific 10 Conference titles, one Big Ten title, a 31-20 record in the NCAA Tournament, 223 Pac-10 wins and four Final Four appearances. It's enough to engross any man of his stature, but Olson has different plans for his celebration of 400.
"We have some leftover pizza at home and I am going to go put it in the oven," he said.