Made of iron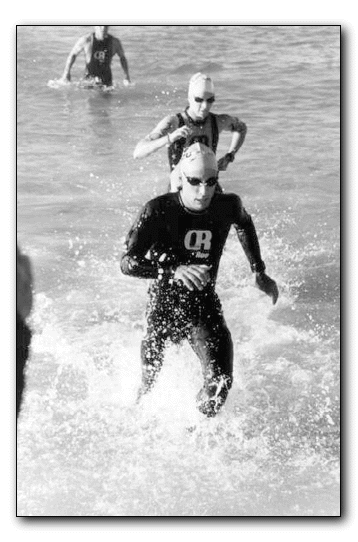 Arizona Daily Wildcat
Photo courtesy of UA Tricats Tricat graduate student Seton Claggett emerges from the water at this year's Isuzu Ironman competition in Panama City, Fla. Claggett and other Tricat members use such events as the Ironman to prepare for the Collegiate Triathlon Championships in May.
By athletes pushing their bodies to limits most of us can only dream of, the triathlon can be considered the most grueling event in sports.
A 6.2-mile run, 25-mile bicycle race and a one-mile swim is what these remarkable athletes must endure simply for their own satisfaction, and that's in one competition.
There is barely any money in the future, little chance of an endorsement later on in life and little fame to be had, but the thrill of crossing the finish line is enough for most.
The UA Tricats, the club Triathlon team, is home to some of these athletes, who may be regarded as the toughest on campus.
The Tricats annually compete in fall events such as the Ironman Competition, which takes place in different areas of the country, featuring much longer distances.
The Ironman consists of a 2.4-mile swim, 112-mile bike and 26.2 marathon run.
"Being able to say you completed the Ironman is quite an accomplishment." club president and junior David Leigh said.
Early this month, graduate students Chris Battaglia and Seton Claggett, as well as juniors Chris Cabrera, Justin Perino and Leigh finished the Ironman in Panama City Beach, Florida.
An even larger accomplishment was graduate student Jeanne Krizman's 22nd-place finish in the Ironman world championships in Kona, Hawaii this past year.
As a UA club, the Tricats depend on various fund raisers throughout the year to fund their one group event, the Wildflower National Collegiate Triathlon Championships.
This club's growing popularity can be attributed to the weather in Tucson that allows athletes to train during all seasons.
"The ability to train in the winter out here is unmatched on the East Coast," Tricat graduate student Kathryn Bertine said.
The club consists of athletes on all skill levels, from the weekend warriors to the hard core triathletes.
"The great thing about the Tricats is that everyone can get into it as much as they want," Leigh said.
Tricat graduate student Doug Keen encourages people to come out and join the club.
"If you are strong in a particular area, there are people that can train with you," he said. "If you know nothing, we have coaches who can help guide and show you where to start."
Most of the team consists of former runners and swimmers who make the transition from a singular focus to becoming a triathlete, which is not the easiest thing to do.
"Everyone is different as far as their athletic backgrounds go," Leigh said. "If they are willing to work on their strengths and weaknesses, we can coach them."