Griffith sees herself as new JT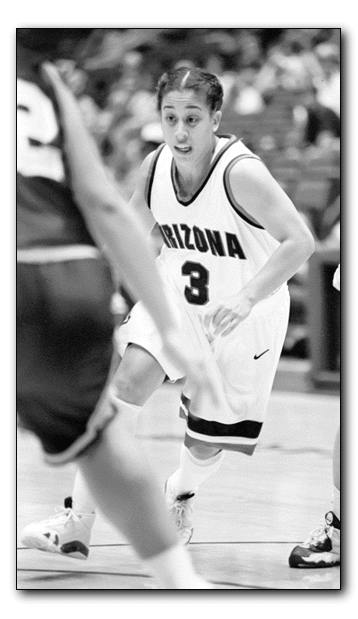 Joshua D. Trujillo
Arizona Daily Wildcat
Senior guard Lisa Griffith drives to the hoop during the Wildcats win over UC Santa Barbara on Tuesday night. Griffith compares her new role of coming off the bench to former men's basketball standout Jason Terry's during the 1997 National championship run.
Though senior guard Lisa Griffith's playing time this season is reserved to coming off the bench, she sees herself in the same role as former UA point guard Jason Terry during his sophomore season.
"The main thing that I look at is when Jason Terry came off the bench when they won the national championship, it was just a huge factor and that motivated me because I have started (in games) all my life," Griffith said.
"When Coach B asked me to come off the bench, it was really hard, but I looked at what he did and how he was able to come in and help the team by coming in and giving minutes, doing all the little things," Griffith added. "I may not score as much, but as long as I can help the team in any way, I'll do it for the bigger picture."
Griffith, along with senior forward Angela Lackey, started last season, but head coach Joan Bonvicini has changed their roles this season with the return of senior forward Tatum Brown and senior guard Monika Crank, who were out last season for academics and injury, respectively.
"We have a lot of good players and a lot of it depends on who we are playing and what kind of matchups we have," Bonvicini said. "It's a good luxury (to have so many players), and I feel fortunate."
Griffith helped the Wildcats upset the 15th-ranked UC Santa Barbara Gauchos Tuesday night by contributing seven points, three rebounds and three assists in 23 minutes of play, much to the delight of Bonvicini.
"I thought that Lisa Griffith again played smart," she said
Coming off a season where Griffith was seeing upwards of 30 minutes a game, she said that playing 23 was okay.
"I knew that (playing 30 minutes) was going to be really hard and if you play 30, it is probably because you are on fire," Griffith said. "With the pace that Coach B has us going, it is going to be almost impossible to play 30 minutes and not be exhausted."
Griffith added that because everyone's minutes are limited, it motivates every player to take advantage of every playing opportunity that they're presented with so they can inch closer to one of their ultimate goals.
"To win a Pac-10 championship, you have to be able to sacrifice," she said.