'A real battle out there'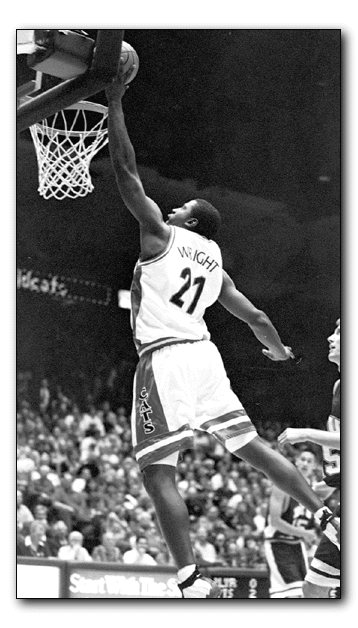 Nicholas Valenzuela
Arizona Daily Wildcat
Sophomore forward Michael Wright goes up for a lay-in on Wednesday night as the Wildcats beat BYU 86-62. Wright and the rest of the UA front court have their hands full tomorrow night as they battle the tough Texas front line in Austin.
Junior center Loren Woods played only 18 minutes on Wednesday night against Brigham Young. Sophomore forwards Richard Jefferson and Michael Wright played just 22 and 27, respectively.
While Wright's minutes provided No. 4 Arizona (5-0) with 19 points and 10 rebounds, the 40 total minutes by Jefferson and Woods gave UA just another 19 points and only five rebounds.
Against No. 9 Texas (4-0) in Austin tomorrow night at 7 at the 16,175-seat Frank Erwin Center, that kind of production by two-thirds of the front court may not be enough to stay undefeated in the young season.
The Longhorns bring a physical game to the hardwood as junior center Chris Mihm (19.8 ppg, 12.8 rpg), senior forward Gabe Muoneke (16.8 ppg, 7.5 rpg) and sophomore transfer forward Chris Owens (13.0 ppg, 5.0 rpg), who was coached by UA's senior guard Josh Pastner in the Houston-area AAU league, occupy plenty of space in the paint and love to bang.
"It is going to be the most physical game in the post area that we will face all year long with the exception of Stanford and maybe Oregon," UA head coach Lute Olson said. "So we better strap those shoes on pretty tightly and know that there is going to be a lot of banging going on down there."
Wright, who went through the war last year in the Wildcats 73-57 victory over Texas in Tucson, uttered similar sentiments to Olson's about the physical game that Texas brings, night in and night out.
"Last year, next to Stanford, they were the most physical team I played against," he said. "Muoneke and Chris Mihm and Owens, I know it is going to be a real battle out there."
Owens stands at 6-foot-8 and 232 pounds, Muoneke at 6-foot-7 and 250 pounds and Mihm towers at 7-feet, 262 pounds. To counter the inside bodies of the Longhorns, Wright, Woods and Jefferson are going to have to use their quickness as well as size.
But using both of those weapons may prove to be tiresome for them, so once again, the bench play will be a key to UA's success - something that redshirt freshman forward Luke Walton, one of those players ready to come off the bench, doesn't mind resorting to.
"Every good team that I look back on has a good bench," he said following UA's 86-62 win Wednesday over BYU. "We always play together in practice and we have fun. We always kid on how we are going to get the first team and so when we come in to play against other people we feel a sense of pride."
Besides being the first of three games in seven days against teams in the top 10 (No. 5 Connecticut and No. 8 Michigan State), the game tomorrow night will also mark the first real road game for the Wildcats. They did play in the Preseason National Invitation Tournament in New York City, but that neutral court does not bring the same type of college atmosphere as they will face at Texas.
So, the big question looming is how freshman guards Jason Gardner and Gilbert Arenas are going to handle 16,175 hard-core Texas fans taunting their every move.
"I remember my first Pac-10 game, we played against UCLA and it was just so hyped, the atmosphere, I felt like I was spaced out with a little butterflies," Wright said. "We have to just tell them (Gardner and Arenas) to do what they always do, go out there and produce. You are going to have butterflies, but you just have to come to play, get over that and act like a grown man."
After defeating Michigan State 81-74 in the Puerto Rico Shootout championship game, Texas jumped from No. 20 to No. 9 in the Associated Press poll. But, beating Arizona could put them in the top five and gain them the national respect they believe they deserve.
"Since we are playing at their house, word is out there that they have just been waiting on us to come so they can just show that they are good," Wright said.
Woods on the other hand believes that Texas is just another team standing in front of Arizona and it doesn't matter who they have or where the game is.
"We really don't care about Texas, they are just another team in our way," he said. "We are trying to win it all and they are in our way and we just have to win. I don't care who they have on the team, they are just another team we have to beat."