Radio-friendly Tucson group plays against the grain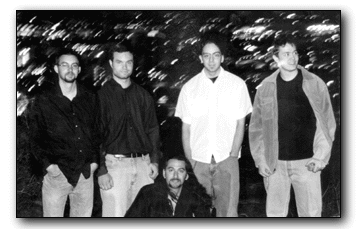 Arizona Daily Wildcat
Photo courtesy of Tricky Luz Tucson band Tricky Luz hopes their mellow sounds will take flight with UA students. Their first album, Honeyblood, will hit stores at the end of January.
Tucson band Tricky Luz, partly composed of UA students, is at a crossroads in both its musical and academic careers.
With its upcoming album, Honeyblood, the group hopes its distinct, mellow sound will catch on in the Old Pueblo, and eventually beyond.
"After one and a half years, we're at the stage where we're melting," drummer Miguel Monroy said. "Then we're hoping to start doing small tours in Phoenix in six months. But for right now we're playing for fan base in Tucson."
Although the band describes Honeyblood as a blend of mellow acoustic sounds, its members pointed out that it is more abrasive than traditional sounds of its genre.
"It's definitely got an edge to it," electric guitarist Brad Haefner said. "(It has) more of an edge to it than most coffee shop music."
Luz is hoping this edge will spell success in the future. The band sees itself as having something fresh and original to offer the music world, which is seemingly inundated with angry tunes.
"Listen to music these days and you have a lot of Korn and Limp Bizkit saying, 'Shove it up your ass,'" Hubbard said. "We're going against that grain. We have a little more feeling."
The band is banking on their softer, more meaningful sounds to help them ride a new wave.
"Even bands that were happening five or six years ago, like Blur and Oasis, are pretty gone these days. Music is changing all the time," Monroy said. "But this band has a fresh attitude, and no one's burned out."
So far, at least one person has shown a great deal of interest in their work. A family friend of acoustic guitarist Josh Watts donated funds for Honeyblood's production.
"Someone who liked the album gave $2,000," Monroy said. "He believed in the music enough. He saw some potential, and he's not even a professional."
Band members hope to live up to that potential as times progresses. Upon graduation in a year and a half, Hubbard hopes to concentrate solely on Tricky Luz.
"It's busy - being a music major, I'm playing with a lot of different groups," Hubbard said. "But it's what I love, so I do it. But usually the school just has to take precedence over the fun stuff. One and a half more years, then it'll be the other way."
Monroy, too, sees a future with the band if members maintain their bond and keep cranking out quality music.
"I've done albums with a group, and six months later everyone goes their own way," Monroy said. "I hope this album grounds everybody. We're hoping we all stick together. We're hoping the music's strong enough that everyone keeps playing."
Tricky Luz will keep grooving as soon as everyone gets back from holiday vacation. In about three weeks, the band will be hosting a CD release party at the Velvet Tea Garden.