Arizona knocks off top-ranked Cardinal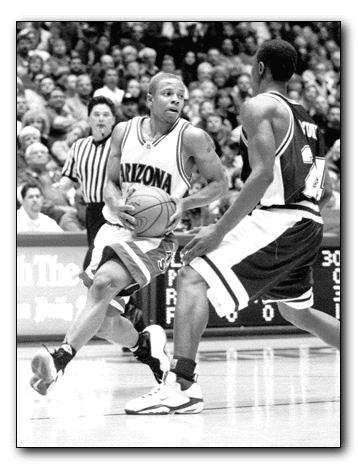 Nicholas Valenzuela
Arizona Daily Wildcat
Freshman guard Jason Gardner pushes the ball upcourt during a Dec. 1 game against Brigham Young University at McKale Center. Gardner led all scorers with 22 points in Saturday's 68-65 upset victory over top-ranked Stanford.
STANFORD, Calif. - Maybe freshman guard Gilbert Arenas was getting ahead of himself when he danced and joked around with the Stanford student section from the UA bench after fouling out with just under a minute remaining.
But with a seven-point lead in hand, Arenas could be forgiven for assuming Arizona (2-0 Pacific 10 Conference, 13-2 overall) would cruise to victory. Even the television announcers were praising Arizona for its performance and Stanford fans began to file out of Maples Pavilion.
Missed free throws and turnovers by Arizona and two clutch three-pointers by Cardinal guard David Moseley allowed No. 1 Stanford to sneak back into the game.
Before taking his free throws with three seconds left, UA freshman guard Jason Gardner told the referees that the crowd was making the floor shake by jumping up and down, altering his shot. It was a move far beyond his years, and Gardner calmly sank both free throws to make it 68-65.
Stanford missed a last-gasp three-pointer, and Arizona escaped with a victory.
"I knew it was going to go down to a last-second shot because they're No. 1, but with us up by so much with a minute to go, I didn't expect it to go like that," Arenas said. "They have a nice crowd, I like that crowd. They know everything about you."
In defeating Stanford, Arizona opened the Pacific 10 Conference season with a sweep of the Bay Area schools. On Thursday, the Wildcats edged California 65-61.
The wins came at a price, however, as Arizona lost sophomore forward Richard Jefferson for nearly two months after he broke his foot early in the game against Stanford.
"I'm very proud of the toughness our guys showed under the circumstances, especially losing a key guy like Richard in the first three minutes of play," UA head coach Lute Olson said. "But I thought Luke Walton, other than missing some shots that he'll make once he gets more playing time, which obviously, he is."
Walton, a redshirt freshman, will be placed into the starting lineup in place of Jefferson after an impressive weekend. Against Cal, Walton made a three-pointer and a jumper from the top of the key in the second half to enable Arizona to come from behind and gain momentum.
Against Stanford, Walton had seven assists.
"I didn't know where (my breakout game) was going to happen," Walton said. "Richard's one of the leaders and one of the best players on the team. When we found out he wouldn't be back, we all had to step up our games to beat this Stanford team, and I think our whole team did that."
If Walton and junior forward Justin Wessel did the dirty work against the Cardinal, junior center Loren Woods, sophomore forward Michael Wright and Gardner took all the glory.
Gardner scored a game-high 22 points to go along with six rebounds and four assists. Woods had 16 points, 12 rebounds and four blocks, while Wright had 15 points and nine rebounds while holding Stanford preseason All-American forward Mark Madsen to two points.
"The way we played, we didn't shoot it well," Stanford head coach Mike Montgomery said. "Part of that was due to Arizona's defense, part of it was due to our impatience. Wright and Woods are big and do a great job on the boards. I thought Jason Gardner and Wright, in particular, were spectacular."