Stanford haults record start by women's hoops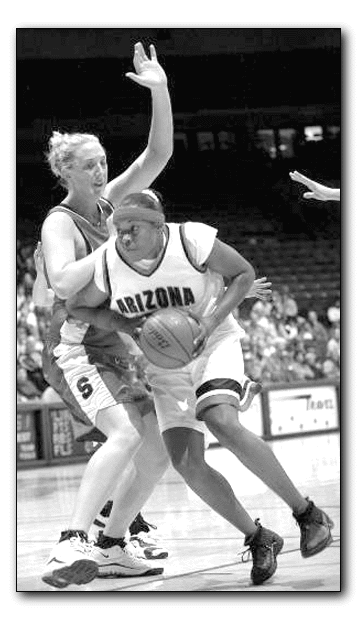 Associated Press
Arizona Daily Wildcat
Arizona's Angela Lackey, right, tries to get around Stanford's Cori Enghusen for a shot in the second half during Saturday's game at the McKale Center. Despite Lackey's 22 points, the Wildcats lost a close game, 98-95, giving them a split in their first two Pac-10 games of the season.
Just as the UA women's basketball team had equaled its best start ever with a 12-1 record, the Stanford Cardinal came to Tucson and put a damper on a nearly perfect start.
In the conference opener, the No. 18 Wildcats split their home series against California and Stanford in two games that UA head coach Joan Bonvicini said would be one of the defining points in their season.
After defeating Cal 71-68 Thursday, Arizona was beaten by Stanford 98-95 on Saturday, ending their school-record 15-game home winning streak.
"Though we did score 95 points, we could have done a better job defensively," senior forward Tatum Brown said. "Instead of exchanging scores, we needed to score and then get a stop, score and then get a stop. Defense wins games and we didn't capitalize there."
Before facing Stanford, Bonvicini said despite records, rankings or any statistics, the game would be a dogfight because of the lofty reputation Stanford holds.
The game proved to be just what Bonvicini expected - a dogfight. After numerous runs by both teams, the Wildcats were down 94-93 with seven seconds remaining with Stanford's Carolyn Moos at the free throw line.
Moos hit the first of two free throws and then missed her second, but rebounded her own shot and sank an eight-footer, sealing the upset over Arizona.
"When Carolyn made those shots at the end, it was the topper for Stanford that gave them the final boost," senior guard Felecity Willis said. "To score that much and not win is disappointing, but it just means that we've got to be more defensive minded."
Leading the Wildcats in the high scoring affair was senior forward Angela Lackey, who despite only making 3-of-13 field goals, converted 10-of-15 free throws to finish with 21 points.
Senior guard Felecity Willis added 18 points and sophomore guard Julie Brase chipped in with 16.
Though Arizona lost the game, Brown added that they can learn a lot from the loss.
"Little things lost the Stanford game for us, but we now realize that we need to take care of fundamentals and little things in all our upcoming games," she said. "We are going to come out against Washington and all the rest of our opponents wanting to dominate."
The team's 12-2 overall record (1-1 Pac-10) is the second best start in school history. The 1996 squad began the season 13-1.
In December, the Wildcats pushed their undefeated streak to 9-0 by beating Texas Southern 96-46, Indiana 87-70 and Northern Illinois 78-46.
The Texas Southern and Indiana wins captured the Insight.Com Bowl Tournament Classic crown for Arizona.
Following those three wins, the Wildcats suffered their first loss to then No. 23 Kansas 71-68.
Kansas, which was led by Lynn Pride's 19 points, overcame a 36-26 half-time deficit.
Pride's 19 points included a lay-up with 27.6 seconds remaining that capped off the Jayhawks rally and secured the win.
"The Kansas game was similar to the Stanford game, in that we let them back into the ballgame," Bonvicini said. "When we did that, it gave them confidence which coupled with our inability to score. That was just a very tough game for us."
The winter break also marked a change in starting lineups for the Wildcats.
After using the same lineup throughout their winning streak, Bonvicini substituted Lackey for sophomore forward Elizabeth Pickney and senior guard Lisa Griffith for senior guard Monika Crank into starting roles beginning Dec. 29 against Marshall.
"Lisa has been playing the best basketball of her career, with not just her scoring, but her decision making as she has been playing really smart," Bonvicini said. "Angie has really picked up her intensity with scoring well and being tough on rebounds. She, also is playing the best of her career."
Following the Kansas game, Arizona defeated Marshall 91-61 and Louisville 80-70 before heading back to Tucson for the conference openers.