Pudge, Perez elected to Hall of Fame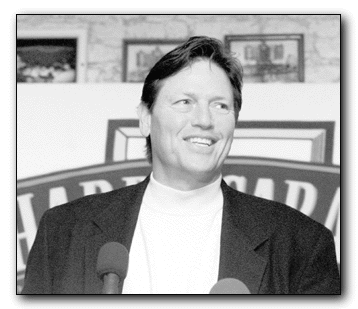 Associated Press
Arizona Daily Wildcat
Carlton Fisk listens to questions from the media yesterday at Harry Caray's Restaurant in Chicago following the announcement that he had been elected to the Baseball Hall of Fame. Fisk was voted in along with Cincinnati Reds great Tony Perez.
Associated Press
NEW YORK - Twenty-five years after clearing The Wall, Carlton Fisk and Tony Perez made the Hall.
The pair, linked by home runs in perhaps the greatest World Series ever, were elected to the Hall of Fame yesterday, wiping away the times they fell just short.
''I'll be happy and proud to be standing up there in July at the same podium as he is,'' Fisk said.
Fisk is best remembered for waving his 12th-inning homer fair in Game 6 of the 1975 World Series. Perez's two-run shot off Bill Lee the following night, which helped rally Cincinnati from a three-run deficit to the title, is largely overlooked.
''It's sweet now, when I'm in. It doesn't matter how long I had to wait,'' said Perez, who made it on his ninth try. ''The first thing I thought of was calling my mother in Cuba. The family was there, too. They started jumping around. My mother was crying.''
Fisk, who caught the most games in major league history (2,226) and hit a record 351 of 376 career home runs while playing the position, received 397 votes among the record 499 ballots cast by 10-year members of the Baseball Writers' Association of America. Perez received 385 votes.
To be elected, a player had to be listed on 375 ballots (75 percent). Fisk, who fell 43 votes short last year in his first time on the ballot, received 79.6 percent and made it with 22 votes to spare.
Perez, 71 votes shy last year when Nolan Ryan, George Brett and Robin Yount were chosen, got 77.2 percent and was elected with 10 votes to spare, becoming the first Cuban chosen by the BBWAA.
And it could be an even bigger '75 reunion when induction ceremonies are held.
Fisk, who played from 1969-93, and Perez, active from 1964-86, will be inducted into the Hall at Cooperstown, N.Y., on July 23. Sparky Anderson, who managed the Reds to Series titles in 1975 and '76, is a leading contender for election by the veterans' committee, which meets Feb. 29 at Tampa, Fla.
''That would be something special, if I went in with Sparky at the same time,'' Perez said.
Fisk, who spent 11 seasons with the Boston Red Sox and 13 with the Chicago White Sox, acknowledged his Game 6 homer off Pat Darcy was his defining moment, especially for director Harry Coyle's reaction shot of his using every bit of body English to wave the ball fair as it traveled down the left-field line. When it finally hit the foul pole for a home run, he jumped with his arms thrust in the air.
''A lot of people who viewed that game realized we're all people and we run the full gamut of emotions, maybe even more intensely than the fans,'' Fisk said.
Cincinnati trailed 3-0 in the sixth inning the following night when Perez hit a two-run homer on Lee's blooper pitch.
''It's something you never forget,'' Perez said. ''I still feel it. I can close my eyes and I still see it.''
Perez, now a special assistant to Florida general manager Dave Dombrowski, hit 379 homers and finished with 1,652 RBIs.
He joins Big Red Machine teammates Johnny Bench and Joe Morgan in the Hall. Missing is career hits leader Pete Rose, ineligible because of the lifetime ban from baseball he agreed to following an investigation of his gambling. Rose received 17 write-in votes, which don't count.
''He's a great player and should be in it,'' Perez said, ''but right now I don't want to get into it.''
Perez, a teammate of Fisk's on the 1980 Red Sox, will be just the 18th first baseman in the Hall and Fisk only the 13th catcher.
Fisk, a New Englander from New Hampshire, left both the Red Sox and White Sox on bad terms, but Boston has reached out in recent years, making him a special assistant to GM Dan Duquette.
''My relationship with the Red Sox has improved,'' Fisk said. ''They've made concerted efforts to open the door of communication.''
Yet, he still hasn't decided if he wants a Red Sox or White Sox hat on his Hall plaque.
''I have to think about it a little more,'' he said. ''I'm going to reserve judgment on that for a little while.''
He still sounds angry at the White Sox.
''Some of that is water under the bridge, but some of the issues still haven't been addressed,'' he said. ''There are some very definite scars from our relationship.''
Both players were emotional when they received the news.
''We just started screaming and yelling around here,'' Fisk said in Chicago. ''It was a pretty exciting scene here in the kitchen.''
When Jack O'Connell of the BBWAA called Perez with the news, the first thing Perez said was, ''Are you sure?''
Jim Rice, Fisk's former Boston Red Sox teammate, was third with 257 votes (51.5 percent), followed by Gary Carter (248), Bruce Sutter (192), Rich Gossage (166) and Steve Garvey (160).
Tommy John was next at 135, followed by Jim Kaat (125), Dale Murphy (116), Jack Morris (111), Dave Parker (104), Bert Blyleven (87), Luis Tiant (86), Dave Concepcion (67), Keith Hernandez (52) and Ron Guidry (44).
Thirteen players who failed to receive 5 percent (25 votes) will be dropped from the ballot, a group that includes Jeff Reardon (24), Bob Boone (21), Willie Wilson (10), Rick Sutcliffe (9), Kent Hrbek (5) and Charlie Hough (4).
Six writers, deciding no one was worthy, submitted blank ballots.
Gossage received the most votes among the 14 players on the ballot for the first time. Next year's ballot will include first-time candidates Kirby Puckett, Dave Winfield, Lou Whitaker and Don Mattingly.