Britain might bar Tyson from entering country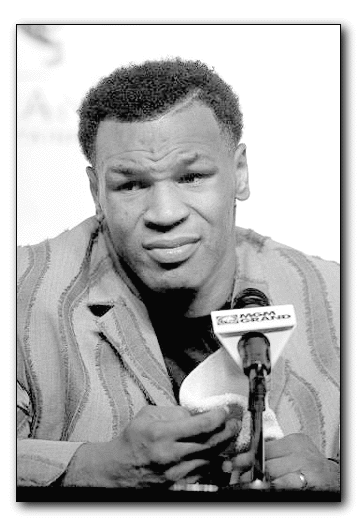 Associated Press
Arizona Daily Wildcat
Mike Tyson scowls during a news conference following his heavyweight bout against Orlin Norris at the MGM Grand Garden in Las Vegas in this Oct. 23, 1999 photo. Tyson might not be allowed into England for his Jan. 29 fight against Julius Francis because of his 1992 rape conviction.
Associated Press
LONDON - Mike Tyson's latest comeback fight could be over before he boards a plane to England.
The former heavyweight champion was told yesterday he might be refused entry to Britain for his Jan. 29 fight against Julius Francis because of his 1992 rape conviction.
The bout had been set a month ago, and British immigration authorities issued their warning with the fight in Manchester less than three weeks away and all 21,000 tickets sold.
British immigration rules state that anyone convicted of a crime that carries a jail term of at least a year would not be allowed in the country.
Tyson was convicted of raping Desiree Washington and served half his six-year sentence. An immigration office spokesman said the only way he could be allowed in the country is for ''strong compassionate reasons''.
Tyson is to fly to England on Sunday to prepare for his fight against the British heavyweight champion at MEN Arena. He is reported to be getting $12 million for the fight while Francis, a journeyman with a modest record of 21-7, receives $528,000.
For Tyson, the bout could be another step on the road back to another title fight. For Francis, it could be one final big payday.
Shelly Finkel, Tyson's boxing adviser, was optimistic.
''Hopefully, everything will be fine and we're planning on leaving for London on Sunday,'' he said.
Jay Bright, Tyson's assistant trainer, questioned the application of British law.
''I'd like to see if this rule includes anybody who crosses the English border, or whether this is selective,'' he said.
Showtime is televising the fight in the United States, and spokesman Marina Capurro said the company would have no comment until the matter is resolved.
Several British lawmakers, including some who admit they are anti-boxing, called on Home Secretary Jack Straw to take a tough stance against Tyson.
''The offenses for which he served were very serious,'' said actress Glenda Jackson, a member of Parliament and London mayoral candidate. ''They shouldn't bend the rules for him.''
Trevor Phillips, running mate of another Labor mayoral hopeful, Frank Dobson, said members of his family knew Tyson's rape victim and said it would ''stick in my craw'' if the boxer was allowed into the country.
Tyson's last fight, against Orlin Norris in October, was declared a no-contest. Tyson delivered a blow just after the bell to end the first round. Norris injured his knee when he fell and was unable to continue.
Promoter Frank Warren said no one raised possible immigration problems when the fight was announced last month.
''Mike Tyson is coming over here to fight and then go home,'' Warren said. ''He's not here to do anything else and he's not going to be a danger to anyone apart from the man he's going to fight in the ring. ...
''I'm disgusted that no one had the courtesy to pick up the phone and tell me about this problem. It's not as if we put this fight on last week. We did this back in the first week in December.''
Frank Maloney, the manager of Francis and of undisputed heavyweight champion Lennox Lewis, said no one has tried to stop promoter Don King from entering Britain, and he has served a jail term for manslaughter.
''Mike Tyson committed a crime but has served his time,'' Maloney said.