'Scholarship Seven' battles Wazzu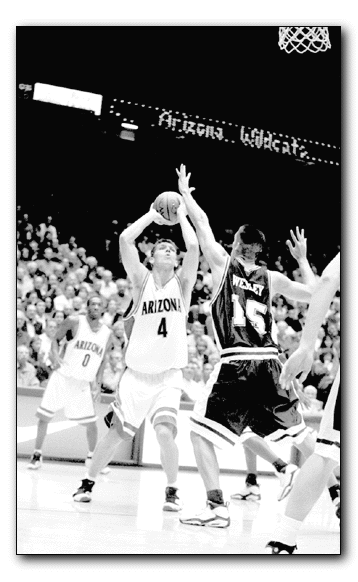 Nicholas Valenzuela
Arizona Daily Wildcat
Sophomore Luke Walton looks to score against an opponent from Brigham Young University during a Dec. 1 game at McKale Center. The forward will see an increased number of minutes for the next two months while injured forward Richard Jefferson recovers from a fractured bone in his foot.
With classes barely underway, a lineup down to seven people, a target on their backs as the new team to beat in the Pacific 10 Conference and this fabulous weather Tucson is seeing in mid-January, it is no wonder why the UA men's basketball team is happy to be home this weekend.
"I think it is going to give us a lot of confidence," freshman guard Gilbert Arenas said. "We are home, around Arizona fans. And starting school, I think we are excited about that ... well some of us."
Whether it is a good week of school or not, the one thing that is for sure is that tonight's game against Washington State (5-6 overall, 0-2 in Pac-10) at 6:30 in McKale Center and Saturday night's contest against Washington (6-8, 1-1) may have turned into the biggest series of the season for UA (13-2, 2-0). It marks the first time the Wildcats will play with their revamped seven-man rotation.
"Through the years, we have been fortunate enough to be able to make adjustments and fill in. It is not like we can't make adjustments now, though," UA head coach Lute Olson said. "We are just going to have to do what is necessary."
Redshirt freshman forward Luke Walton will take over in the starting role for the injured Richard Jefferson tonight, with sophomore Ricky Anderson and junior Justin Wessel as the only reserves under scholarship for UA.
"He is just a great passer, he sees the floor so well," Wessel said of what Walton brings to the team. "He may not be as great of an athlete as Richard, but he can pass just as well as anyone on this team."
The Wildcats are coming off two dramatic and emotional games up in the Bay Area where they beat California, 66-61 last Thursday and Stanford, 68-65 on Saturday.
"It just so happened that Richard broke his foot. Anything can go anyway, any day, so you never know," sophomore forward Michael Wright said. "When we are playing games we just have to be real cautious and we just have to bring the momentum that we had against Stanford when Richard went out."
As a result of the depleted bench, the Wildcats are going to have to be cautious about getting into foul trouble as well as keeping the intensity against a team like Washington State, a squad they could easily overlook.
"As soon as you start looking at it like a relief, that is when you slip up, your mental preparation slips up," Wessel said. "Somehow we have to keep the intensity up where it was last weekend. Hopefully we can do that, if not we are going to have a letdown and lose a game you shouldn't."
WSU, a team under the direction of head coach Paul Graham, is coming off a pair of losses at home last weekend to USC, 83-61 and UCLA, 86-64. Graham is in his first season as the Cougars head man, replacing Kevin Eastman after the Cougars were just 4-14 in the Pac-10 and 10-19 overall last year.
"I think there is always an adjustment for the guys when there is a change in coaches, but I think that the coaches are pretty much the same," Olson said. "They both run half-court styles and are pretty much defensive oriented coaches. They still play four-out, one-in and that is going to create some match-up problems for us."
The Wildcats had trouble with the Cougars last year, beating them 98-87 in McKale Center and 81-79 in Pullman, Wash.
"They gave us problems both times, here and back there," sophomore forward Ricky Anderson said. "Jan-Michael Thomas hit threes and we just have to shut him down and play good 'D'. We are playing really good team 'D' right now."
UA will not only have to contend with Thomas, who is second on the team in scoring with a 14.6 points per game, but they will also have to watch for senior forward Chris Crosby who leads the team in scoring (16.6 ppg). Crosby is also lethal from the free throw line, shooting 89 percent as well as 42 percent from three point range (21-of-49).
The only other double-digit scorer for the Cougars is sophomore guard Mike Bush, who is averaging 10.9 points and 6.5 rebounds per game.
"Crosby is an excellent three-point shooter, and he runs in the four-spot," Olson said. "Bush is a three, but does not shoot the three as well, but is very aggressive off the dribble."
Despite the successful history UA has over the Cougars, if they can't muster up enough intensity and stay out of foul trouble, it could be a long night for Olson.
That, though, is not a worry for some of the players.
"If we can get the momentum that we had against Stanford, I don't think anybody can stop us, we are unbeatable," Wright said.