Paging Dr. Payne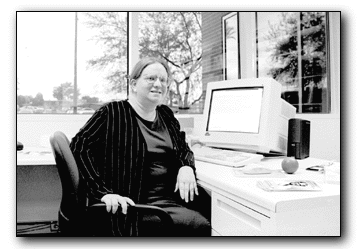 Aaron Farnsworth
Arizona Daily Wildcat
Librarian Mari Stoddard maintains her Web site through her computer at work at the Arizona Health Sciences Center. Stoddard complies lists of humorous doctor names on her site which are sent to her from around the world.
Mari Stoddard is a medical librarian, so is Rita Book.
But Stoddard has a normal name, not worthy of a double take or submission to a funny medical professionals' names list - such as the one she personally maintains in her spare time.
Stoddard, a librarian for nearly 20 years and the head of the educational services unit at the Arizona Health Sciences Library, has been gathering amusing names of doctors and other health care practitioners for her Web site since April 1998.
She came up with the idea after some passing humorous conversation on an online medical librarians' discussion board.
Though Stoddard shares the list for its entertainment value, it's also habit for her.
"I'm a librarian - preservation of information is important to me," Stoddard said. "It seemed humorous to me, so I wanted to put it up where other people could get a chuckle."
In addition to suggestions collected from her colleagues, Stoddard receives e-mails from people who come across her list while surfing the Internet and decide to share a story or name they had heard.
"It seems like half the people who read it know a funny doctor's name, nurse's name, veterinarian's name and have to send it along," said Stoddard.
Stoddard's list is constantly growing. She has compiled nearly 250 names, with an update last weekend.
"The sheer number of them does amaze me, and (I am) getting more all the time," Stoddard said.
Hannah Fisher, an associate librarian at the health sciences library and a co-worker of Stoddard's, suggested she add Dr. A. Sickman - a Philadelphia physician she had heard about in a Ripley's Believe it or Not column - to the list.
Whenever an employee in the medical profession hears a funny name, they usually share it right away with their fellow workers.
"It seems that they are quite interesting when they find them," she said.
Though Fisher hasn't personally met any doctors or nurses with odd names, she does remember her days as a nurse keeping amused during the quiet night shift.
Other nurses, bored but with a sense of humor, occasionally had the switchboard operator page fictitious doctors, such as the obstetrician Dr. Frank Breech, she said.
"We've got creative people," Fisher said.
Although Dr. Breech does not exist - at least not to Stoddard's knowledge - some typical submissions to the site include puns like Dr. Hart the cardiologist, dentists Drs. Chew and Swallow, and Dr. Looney the psychiatrist. Some even have complimentary first names to create full sentences, such as Dr. Daryl B. Payne.
Veterinarians can also be dogged with funny but fitting surnames. Doctors Basset, Katz, Hogg, Fox and Parrott all treat the feathered and four-legged.
Stoddard's favorites include the names that have sly double meaning.
"Some of them, especially the podiatrists, are cute," she said. "I've always enjoyed the physicians, and I enjoyed quite a few of the obstetricians and urologists."
Although Stoddard hasn't received any complaints, she has heard from people thinking the double-entendre of the gynecologist and urologist names should carry warning about adult humor.
She is also willing to cooperate with any embarrassed health care professionals who find their strange-but-true monikers on the Internet.
"Anyone who objects, I'd take their name off," she said.
However, for future doctors - or anybody - possibly disappointed with their non-peculiar names, Stoddard jokingly offered some consolation.
"Just think of your parents sometime and be grateful they didn't do this to you," she said.