No. 2 women's swim team hosts top-ranked Georgia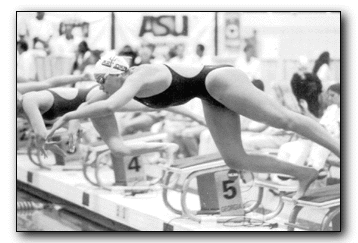 Arizona Daily Wildcat
Photo courtesy of Women's Swimming and Diving Media Guide Sophomore Sarah Tolar starts her dive during a meet last season. Tolar and the No. 2 women's swimming and diving team will have their hands full today against the No. 1 Georgia Bulldogs.
The second-ranked Wildcat women's swimming and diving team will have its shot at national recognition today when it hosts defending national champion and No. 1 Georgia Bulldogs.
UA head coach Frank Busch said the meet will give his swimmers and divers a chance to measure their performance against the nation's best.
"The Bulldogs are well deserving of their number one ranking and this is going to be a good test for our team," he said.
"This meet is going to be filled with abundance of close races, which will determine the winner."
Both teams enter the meet with an undefeated record. Arizona (5-0, 1-0 in Pacific 10 Conference) last competed at the University of Texas at Austin Invitational, where they finished with 28 NCAA Tournament qualifying times and two new American records en route to the tournament title.
UA freshman Amanda Beard broke the American 100-meter breaststroke record with a time of 1:06:67, and freshman Beth Botsford set the mark for the 200 backstroke at 2:07:36.
Jack Bauerle, who is in his 21st season as the Bulldog's head coach, said Arizona will give his team its first real test of the young season.
"We're ranked No. 1 and No. 2, but I'm not sure that we're in the right order," Bauerle said. "Personally, I think they're the best team in the country right now."
The Bulldogs (5-0) are coming off a close victory over No. 9 SMU. In the Georgia Invitational last month, UGA senior Kristy Kowal's time of 2:25:57 set an American record in the 200 breaststroke.
Although no lone event will determine the outcome of tomorrow's 2 p.m. meet at the Hillenbrand Aquatic Center, two critical races will be the 100 and 200 breaststroke. In those events, Beard, a three-time national champion during her high school career, will go head-to-head against Kowal.
Beard also captured three medals - one gold and two silver - at the 1996 Olympics in Atlanta.
"I think it's going to be pretty interesting," Beard said about her races against Kowal, adding that she is trying to prepare for the meet like a regular meet.
Bauerle spent time with Busch last night, but the two coaches didn't mention the Beard-Kowal dual.
"It's going to be something else. We didn't even mention it, but we sure as heck were thinking about it," Bauerle said.
Along with Botsford in the backstroke are seniors Denali Knapp, who won two gold medals at last summer's Pan American Games, and Rachel Joseph, a five-time All-American.
Arizona will also be led by senior Trina Jackson and sophomore Erin Vogt in the butterfly races. Jackson, junior Lindsey Farella, and sophomores Jenny Vanker and Sarah Tolar will be counted on in the individual freestyle events.
The UA divers are also hoping to make a difference in the meet. Although she doesn't know a lot about the Bulldog divers, junior Lindsay Berryman said the Wildcats have enough talented divers to sweep the top spots in the one and three meter competitions.
"I think we're going to do really well," said Berryman, last season's co-Pac-10 diver of the year. "We're all excited about the meet, but we don't know what to expect."