Whew!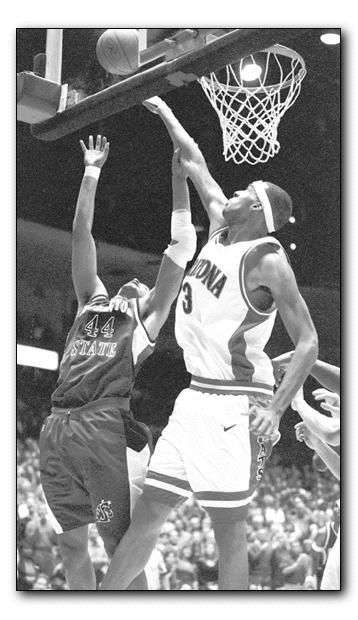 Ian C. Mayer
Arizona Daily Wildcat
Junior Loren Woods blocks one of his team-record 10 shots during last night's game at McKale Center. Woods added 25 points and six rebounds to lead the Wildcats to a 80-75 victory over the Washington State Cougars.
If the Washington State Cougars learned one thing last night, it was to never trust the box score.
And perhaps one of the many lessons UA learned was that the white Nike headbands worn by the team could "compress the brains," according to head coach Lute Olson, who said fans "will not see the headbands" again.
Judging by the statistics during last night's victory over WSU in front of 14,522 people at McKale Center, the Cougars should have won the game.
"You look at stats and you try to figure out how you won the ballgame," Olson said.
Luckily for the Wildcats (14-2 overall, 3-0 in Pacific 10 Conference), though, the only statistic that matters is the final score and UA had the advantage, 80-75.
Washington State had a higher field goal percentage, shooting 52.6 percent to the Wildcats 41.8 percent. They shot 50 percent from behind the three-point line, while UA mustered a measly 3-of-16 night.
Rebounding was also a problem, as the Cougars (5-7, 0-3) won the battle under the glass, 36-25.
"I'm happy we got the win," junior center Loren Woods said. "A lot of guys didn't feel their individual performances were great today, but I told them don't worry about it because if you have a bad night and we win, then when you have a good night we'll play a great game."
Woods led the way for the Wildcats with a game-high 25 points. He also collected a school record 10 blocks, while also pulling down six rebounds. Sophomore forward Michael Wright added 20 points and five rebounds.
Woods' block stat was deceiving, though, according to Olson.
"They outhustled us in situations where we just can't be outhustled," Olson said. "Loren gets 10 blocks and I bet they got five made baskets after 10 blocks. I don't know if the other four guys are there thinking, 'Boy that was a great block.' Meanwhile, (WSU center) Eddie Miller is picking it up and laying it in or somebody else is."
Trailing 35-34 after the first 20 minutes, the Wildcats came out in the second half and ran off six straight points as they got the ball inside to Woods, and freshman guard Jason Gardner drove the lane and drew a foul on WSU's David Adams.
Instead of continuing to feed Woods and Wright, who were able to get position on the smaller WSU defenders all night long, UA went back to trying to hit the three pointer.
"If you can kill them inside, you should kill them inside. You shouldn't take 16 shots from three-point range," Olson said. "I don't care if you think you can hit that shot, I know for sure that if you get the ball into Loren or Michael right at the basket area he is either going to score it, get fouled or have a very high percentage chance of making the shot."
It looked as if UA was going to pull away in the middle of the second half as they went on a 15-5 spurt, capped by a three pointer by sophomore swingman Ricky Anderson. The basket gave them a 68-55 lead with eight minutes left to go.
Anderson's triple also gave life to an otherwise sleepy McKale crowd, but it didn't last too long as the Cougars were able to do what they had done all game long - fight their way back into the contest.
"I could see the effort of our kids tonight," WSU head coach Paul Graham said. "Our kids played really hard tonight and if they continue that they're going to win some games this year."
A 14-4 run during the next five minutes brought WSU within three at 72-69 with two minutes remaining.
The teams traded two-point possessions for the final minutes before Anderson iced the game by hitting a pair of free throws with only two seconds remaining.
"They did what the No. 2 team in the nation does, which is make free throws down the stretch," Graham said.