Olson hopes for more intensity against UW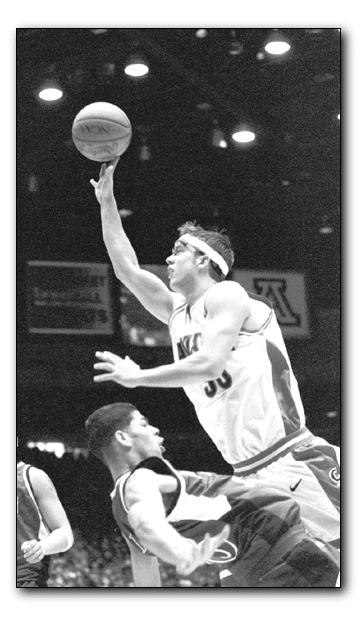 Nicholas Valenzuela
Arizona Daily Wildcat
Justin Wessel plows through an opponent during last night's 80-75 victory at McKale Center. Wessel, a junior forward, was one of the few players praised by head coach Lute Olson after the team's sloppy performance.
After knocking off No. 1 Stanford on Saturday, avoiding a let-down last night against Washington State was difficult for Arizona.
"It's tough to keep the intensity up no matter how hard you try, there's just something about it," junior forward Justin Wessel said. "But that's what the good teams do, the teams that, no matter who it is on the court, they bring the same intensity, whether it's Stanford or Washington State at home. That's what we need to do, if we want to be a good team."
UA head coach Lute Olson praised Wessel as being one of the few players who were ready to play and do what the coaching staff told him, but he won't be buying into Wessel's theory anytime soon.
"What I'd like to do is see us come out every game ready to play - mentally ready to play," Olson said. "There isn't any change in how we prepare for each game."
In the Pacific 10 Conference standings, beating Washington State at home counts just as much as beating Stanford and California on the road. Arizona stands at 3-0 and tied for first-place with USC, but almost every positive that came out of the Bay Area road trip is now overshadowed by a disappointing performance in last night's 80-75 win over the Cougars.
Arizona shot a paltry 3-of-16 from three-point range, compared to Washington State's 6-of-12 shooting, and the Cougars outrebounded the Wildcats 36-25. Arizona did not take enough advantage of its height and strength inside, instead opting challenge Washington State in a three-point battle even though it found success pounding the ball inside.
"The game's about heart, about hustle, playing your tail off on every possession," Olson said. "You look at the stats, you wonder how in the world we won the ballgame."
Olson and his coaching staff had a long talk with the players following last night's game, and no doubt challenged them to come out with more fire tomorrow against Washington (6 p.m. tip-off).
The Huskies (1-2 Pac-10, 6-9 overall) upset Arizona last year in Seattle, but won't have their two leading scorers from 1998-99 - center Todd MacCulloch and Donald Watts - but they do return senior guard Deon Luton, who is averaging 16 points a game this season.
The Huskies fell to Arizona State last night in Tempe, 90-80, but did upset UCLA 63-62 last weekend in Seattle, so Arizona cannot afford to take Washington lightly.
Then again, Olson and his staff will make sure that doesn't happen.
"It's just being ready to play," Wessel said. "We're not ready to move to the next level, if we can't get that done."