UA's new 2 sport athlete hits the scene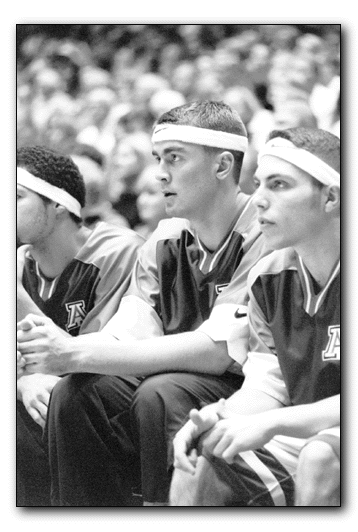 Ian C. Mayer
Arizona Daily Wildcat
New Wildcat forward Peter Hansen, who also plays on the football team, looks on from the bench last night during the team's game at McKale Center. Hansen was added to the team after transfers and injuries left the 'Cats with only seven scholarship players.
Peter Hansen's height has opened a lot of doors for him at the UA.
At 6-foot-8, Hansen walked onto the UA football team as a quarterback in 1997. Towering above everybody on the sidelines, students began chanting for him to enter the game, which he did as a third-string quarterback during the 1998 season.
Hansen was soon discovered as a field goal and extra point blocker, bursting onto the scene by blocking an extra point and altering a field goal attempt in the win over Washington in October 1998.
Hansen was moved to tight end to make the traveling squad and given a full scholarship before the 1999 season began. He responded by blocking two field goals and an extra point last season.
As injuries and transfers have depleted the men's basketball team, UA head coach Lute Olson was in search of practice players and gave a call over to the football office. His target was the football team's tallest player, who lettered in basketball at Palo Alto High School in California.
"They just contacted the football office because I wasn't home, and I got a call from my coaches and they told me the team was looking for extra bodies in practice," Hansen said.
Hansen began practicing Wednesday and dressed for last night's game against Washington State. It is unlikely he'll see much playing time, unless some regulars get into foul trouble or if Arizona has a comfortable lead.
Spring football practices begin March 4, but Hansen will practice with both teams since football practices are held in the morning, and basketball practices are in the afternoon.
Hansen was surprised to get the call from the basketball office, but wasn't about to turn down an offer from the No. 2 team in the country, even if he wasn't in the condition he'd wish.
"Football's a different kind of shape, so I was dying in practice yesterday," he said. "My lungs were burning."