Double trouble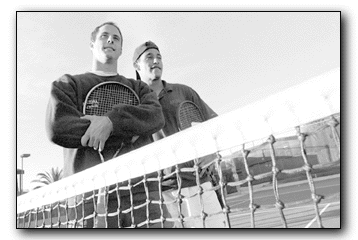 Kristy Mangos
Arizona Daily Wildcat
Senior Jean Noel LaCoste, left, and doubles partner junior Alex Aybar pose during yesterday's practice at the Robson Tennis Center. Although they had never been paired together, the duo knocked off two nationally ranked opponents Saturday at Jerry's Desert Invitational in Palm Springs, Calif.
Talk about working against some tough odds . . .Junior Alex Aybar and senior Jean Noel LaCoste had never been paired together before last weekend when the Wildcat men's tennis team traveled to Palm Springs, Calif., to compete in the Jerry's Desert Invitational.
After LaCoste's partner from last year's team graduated and Aybar transferred from a junior college in Tyler, Texas, the two were paired up for the exhibition against doubles teams from Pepperdine University, San Diego State University and the University of Texas.
Furthermore, the two did not have the luxury of facing an easy opponent in their first match, they went up against two of the top-ranked doubles teams in the country.
Despite their inexperience, the duo, was still able to upset the second-ranked team of Anthony Ross and Sebastian Graeff from Pepperdine, and the twelfth-ranked team of Nick Crowell and Michael Blue from Texas.
Head coach Bill Wright said even the unexpected victory came in an exhibition match, it still means as much as if it had come during Pacific10 Conference play.
"To have a doubles team that can compete with the best doubles teams in the country is so important," Wright said.
Although new rankings will not be released until February, Wright said he expects LaCoste and Aybar to significantly move up in the rankings. They were unranked last weekend.
LaCoste, who will graduate in May, said he and Aybar play a similar style of tennis that compliments each other on the court. While LaCoste excels at the net, Aybar plays best at the baseline.
Together, the two should only get better as a doubles team as they continue to learn how to play together.
"I think we set the standard," Aybar said.
The two have other similarities besides their ability to play tennis - they each grew up outside of the United States. LaCoste was born and raised in Stockholm, Sweden, and Aybar grew up in the Dominican Republic.
LaCoste plans on moving to New York and trading stock when he graduates. Aybar, who plans on graduating next May, has not decided what he will do from there.
Off the court, LaCoste enjoys playing golf and carries a 13 handicap. Aybar prefers a slightly more dangerous hobby - parachuting.
The two takes the court Jan. 28 when they open Pac-10 play in Los Angeles against UCLA.