Towers of power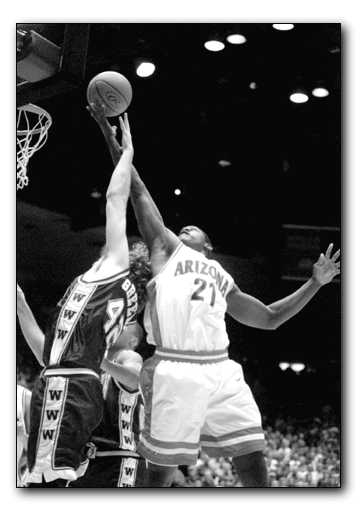 Nicholas Valenzuela
Arizona Daily Wildcat
Forward Michael Wright goes up for an offensive rebound against the Washington Huskies on Saturday. The sophomore totaled 16 points and 12 rebounds to help the Wildcats to a 69-62 win and a perfect 4-0 start in Pac-10 play.
In another hard fought game for the Wildcats, the inside presence of sophomore forward Michael Wright and junior center Loren Woods proved to be the difference against a scrappy Washington team.
"Well, I think those two are the best four-five combo in the country," senior guard Josh Pastner said. "That's simply because the fact that not only do they score, they rebound and block shots. They're intimidating factors down there. They're such hard workers and they're team leaders."
The Wildcats' (15-2 overall, 4-0 Pacific 10 Conference) twin towers set the tone of the game with their dominating play on both the offensive and defensive ends of the floor.
"I don't care if you're big, or in our case, going with a small lineup, it isn't easy going against those two," Husky head coach Bob Bender said. "With their experience factor, I think they can always at anytime take advantage of you."
Woods and Wright took advantage of their height against the smaller Washington players to defensively dominate down low and force Washington to settle for perimeter jump shots.
Woods in particular caused havoc, swatting away five Huskie shots and proving to be an intimidating presence in the paint.
"Coach said we had to turn it up, or we were going to be susceptible to loses," Woods said. "I hate to lose, so we turned up the defense."
With Washington only shooting 33 percent from the field, Woods and Wright were able to pile up the rebounds. Wright increased his Pac-10 leading rebound total with a team high 12 rebounds, while Woods added 11 rebounds for the Wildcats
Aside from strong performances on the defensive end, Wright and Woods also controlled the game offensively for UA.
Woods was a scoring force in the pivot, scoring 22 points while being continually double teamed by UW defenders.
"Loren was huge today. That's how I thought he would turn out by the time Pac-10 season started out," Wright said.
Woods also posed problems for Washington's transition defense, as he continually beat Huskie defenders down the floor for easy baskets.
"We talked about how we can't let Loren Woods beat us down the floor, normally you're saying that about a perimeter player and sure enough he does beat us," Bender said.
Wright also continued his steady post play with 16 points
"When he gets the ball down low, it's pretty much an automatic two," Woods said about his teammate..
Along with his steady court presence, Wright has joined Woods to become one of the team's leaders.
"Those two picked it up not only on the floor but off the floor," Pastner said. "They've both been speaking up in the team meetings; they've really been team leaders, and the guys look to them for leadership because they are two of our best players."