UA Gymnastics open season on high note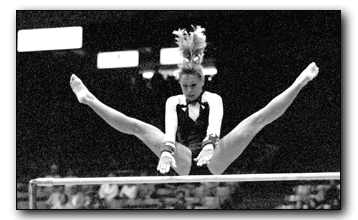 Aaron Farnsworth
Arizona Daily Wildcat
Sophomore Randi Liljenquist performs on the bars. Liljenquist helped No. 20 Arizona to finish second at the quadrangular meet held here this past weekend.
After a strong finish on floor, the Arizona gymnastics' team took second place in its first meet of the season Friday night.
Led by sophomore Randi Liljenquist and freshman Nikki Beyshau, the No. 16 Wildcats (2-1 overall, 0-1 Pacific 10 Conference) defeated Central Michigan and Iowa.
The team was still beaten by Pac-10 rival UCLA, which finished with a high score of 196.300. Arizona recorded 192.675 points, while Central Michigan and Iowa ended with 191.850 and 190.775, respectively.
"It's a good starting point," UA gymnastics' head coach Bill Ryden said. "We learned a lot and got through the first meet jitters."
Arizona was trailing UCLA and Iowa after three events, but solid performances on the floor by senior Kiernan Andrews and Liljenquist moved Arizona into second place. Both gymnasts tied for first place honors with a score of 9.85. Liljenquist also finished third on the beam with a score of 9.8, a new career-high.
Beyshau, who is the team's only freshman, looked impressive in her first collegiate meet, finishing fifth on both the vault (9.775) and the bars (9.75).
"Our freshman loves to compete," Ryden said. "Nikki did very well. She is a great addition to this team."
"Collegiate meets are a lot less stressful and more fun," Beyshau said. "There is room for improvement, but it's good for my first meet."
The Wildcats were hurt by several falls throughout the meet, including three on the beam that helped UCLA walk away with the title.
"We were very uncharacteristic on beam," Ryden said. "We nickel and dimed ourselves on all four events."
The next challenge for the team is Friday at Stanford, where the Wildcats will be looking for their first conference win.
"There will be changes made for Stanford" Ryden said. "We have improvements to make, but overall I am very pleased with this team."