Campus Health accepting appointments, no walk-ins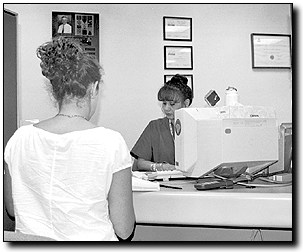 Scott Andrew Taras
Arizona Daily Wildcat
Letty Mendoza (right), pod coordinator at UA Campus Health Services, acknowledges most student visits this school year have been for immunizations. Seated with Mendoza is Jody Sabel, a sophomore psychology major, who is making a co-payment.
By Irene Hsiao
Arizona Daily Wildcat,
September 1, 1999
UA Campus Health Services officials are pledging to be more student friendly by encouraging call-in appointments for patient treatment within one day.
The University of Arizona Health Center plans to steer away from walk-in appointments, which have accounted for 60 percent of the patients in the past, said Kris Kreutz, assistant director of administration.
"The rationale behind that is to encourage students to call and arrive in time for the appointment," he said.
This "24-hour-appointment schedule" is meant to dissuade students from walking in, so they won't waste time waiting.
Dr. Harry McDermott, a Campus Health physician, said regular appointments will still be scheduled but the patients who need to be seen soon should call in instead. Call-in patients can set up an appointment for that day or the next, instead of walking in not knowing how long the wait will be.
Students can call the health center directly at 621-9202 - a number that was added solely for appointment callers. The main number is 621-6490, which will still give callers a menu of options to choose from.
Kreutz said the new system would be a benefit to students, especially those with hectic schedules.
"We can respond more effectively to a student's schedule," Kreutz said.
Patients who make appointments will be seen by a specific doctor or nurse. Before, students would have to wait for the first available physician.
Kreutz said the decision to implement this new procedure was in response to the patient survey suggestion for waiting time to be improved. The idea, which took three months to develop, began at the start of the semester.
"At the spring semester last year, we decided to change how we historically accommodated the students," he said.
Campus Health has used the triage (French for "to sort") system, for the past five years to handle walk-in patients by prioritizing illnesses.
Under the triage system, patients were divided into three main categories; immediate or acute care, delayed care, and self care.
Now the center accommodates students who need to be seen, but not immediately.
"It's one of the more significant changes we're trying to make," Kreutz said.
McDermott said the majority of the students are still walk-in patients.
"I think it's going to take a little time for the word to get out," he said.
However, the center officials are telling those who walk-in that they can now call beforehand.
McDermott said Campus Health will not be visited by many students until the end of September through November, when students are more susceptible to illnesses.
"We don't have a huge volume of activity just yet," Kreutz said.
He pointed out that more call-ins will have a greater impact during busier times, such as flu season in January and February.
"(Under the new system,) we will have fewer frustrated students at peak periods," he said.