Tucson crowd not into new Rollins Band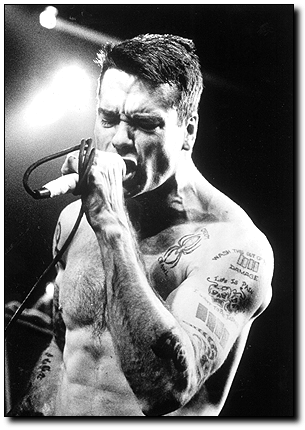 Photo Courtesy of Rollins Band

Henry Rollins performed at Rialto Theatre on Monday night. The audience found his performance less than impressive.
By Ty Young
Arizona Daily Wildcat,
September 1, 1999
Let's get one thing straight. Henry Rollins is a big, big guy. I could not imagine ever saying anything that may cause myself bodily harm at the hands of the former Black Flag frontman. However, the show at the Rialto on Monday night did not inspire much of a reaction from the diverse Tucson crowd.
Playing a set from their upcoming album, Rollins Band had trouble moving the audience.
"Well, this audience is in a sorry state," Rollins said during the show. "It's like a big, concrete pool with no water, and we're in the deep end."
While the band received a huge response when they took the stage, it quickly dwindled down to a bunch of people standing around.
Nearly all of the songs played were new, unreleased material. This did not sit well with the crowd who was expecting the usual songs.
"I thought it sucked." said Tucson resident John Kramer. "They're just not the same."
Despite the disappointing crowd response, Rollins still incorporated his renowned energetic stage presence. He certainly tried his best to motivate the crowd.
"Hear the news today. 104 degrees said the weather man. I like you, and I like your city, but I don't now how you do it 12 months a year," Rollins said.
The new band was put together a year ago and they promptly began writing new material. Formerly known as Mother Superior, they played well with Rollins.
The new songs were good, but they had never been heard before. The crowd did not know what to expect.
New songs like "Get Some Go Again" and "Summer Nights," eventually got the crowd moving but by that time, the songs were nearly over.
Luckily for Tucson fans, Rollins played some old favorites. "Hardman" and "Do it" met a large response, as did a cover of Thin Lizy's "Are you Ready?"
"It sent me back to the Black Flag days," said Eric Vorre, a management information systems senior.
The most interesting part of the night was Rollins' interaction with the crowd. Squatting in his usual Sumo wrestler pose, the crowd seemed more interested in how he was moving, rather than what he was singing.
"The performance was physically energizing," said Russian sciences senior Craig Lowden.
Many of the songs included in this performance may eventually turn out to be big hits. This regional pre-tour will be used as a gauge to see if a national tour should accompany the band's upcoming release.
Regardless of the crowds response, one thing is for sure. Henry Rollins is a big, big man.