Album Reviews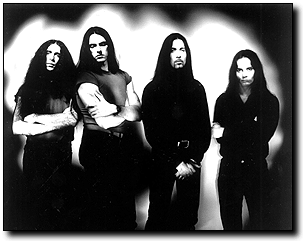 Arizona Daily Wildcat,
September 1, 1999
Type O Negative
World Coming Down
(Roadrunner)
To say that Type O Negative's latest release World Coming Down is a somber album is a grave understatement.
The band, consisting of bassist/singer Peter Steele, keyboardist Josh Silver, guitarist Kenny Hickey and drummer Johnny Kelly, has created and released an album void of any hope or happiness and instead, has brought forth one of the most distraught and horribly disturbing records to ever have passed through my hands.
Composed of thrashy, desolate songs with titles like "Everyone I Love Is Dead," "Everything Dies" and "Who Will Save The Sane?" it is a task to even sit through an entire listening of World Coming Down.
"The break of day. I rot away. With every breath I pray for death," Peter Steele sings in the song "White Slavery." In the song "Everything Dies," Steele sings "Still looking for someone who was around, barely coping. Now I hate myself, wish I'd die..." Suffice it to say, this album is not for those who are easily disturbed. One track entitled "Lung" begins with the simulation (I hope) of a man breathing his last breaths before his body gives way, leaving his death to a screaming and crying woman, obviously connected to the man's life in some way.
Musically, the term "thud rock" can apply to the group's fifth major album as it is made up of slow, thundering, thrashy metal tone, reminiscent of '80's monster ballads by groups like Extreme and Poison.
Type O Negative has definitely accomplished what they set out to do -release a piece of work that could possibly drive a person to suicide.
- Barry McGuire
Filter
Title of Record
(Reprise)
It has been more than four years but following up their platinum debut album Short Bus was never going to be an easy thing for Filter to do.
With the success of their first album came the pressure to repeat, and after two solid years of strenuous touring, Richard Patrick and the rest of the band knew that their sophomore effort was going to have to be something special, something that would bring back fan interest and label support.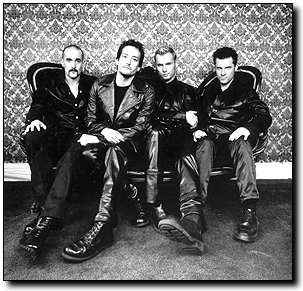 Well, Filter definitely delivered the goods with the highly anticipated release of their second album, Title of Record. Their sophomore album should not only bring back executive support and their old fan base, but it should also garner them a wider listening audience and most importantly, the respect the band has been searching for.
Unless you live under a rock, you have most likely already had a chance to listen to the first single off of Title of Record - "Welcome to the Fold." It is very characteristic of the musical advances the band has made since their "Hey Man, Nice Shot" days.
Instead of simply trying to create as much noise as possible and permeate the album with angst and disdain for the world in which they live, Filter has attempted to create an album characterized by heavy, melodic, power pop that captures lead singer Richard Patrick's inner-most feelings and emotions.
The result is a melodic, finely tuned set of catchy songs, all of which show vast improvement, in both the musical and lyrical aspect from Filter's first release.
The four-year delay may have been a long one for fans of the outfit, but Filter has redeemed itself with an impressive record that was well worth the wait.-BM
Various Artists
Morning Becomes Eclectic:
Selected On-Air Performances from the Legendary KCRW Studios
(Mammoth)
Morning Becomes Eclectic is a radio show on L.A.-based National Public Radio station KCRW that brings an assortment of artists from different genres into the studio to perform live, and talk about themselves and their music. This captivating show spawned a series of CDs of live tracks from the show called Rare on Air, the last volume of which was released about a year ago.
The Rare On Air series is now being replaced by a new series called Morning Becomes Eclectic but the only real difference is the name. This album is the first in the series.
Morning Becomes Eclectic (the CD), compiles a variety of on-air performances into one, ahem, eclectic CD. It starts out with Angelique Kidjo, who was born in West Africa. Kidjo's a cappela piece "Blewu" is mesmerizing - a good choice to open a diverse album.
Beth Orton's acoustic version of "Sugar Boy" and Buffalo Daughter's "Socks, Drugs & Rock'n'Roll," are definite highlights. Air's "All I Need" is impressively rendered live, and P.J. Harvey's "Is This Desire" captures her unmistakable rawness well. Also featured are Cake, Sixpence None the Richer, Lyle Lovett and Semisonic.
Chances are there's an artist on here that you like and there's an artist on here you find annoying. Nonetheless, the inconsistency of styles on this compilation make for a consistently good-quality album. - Annie Holub
Prince
The Vault...Old Friends 4 Sale
(Warner Bros.)
The doves aren't crying very loudly in Prince's new album The Vault... Old Friends 4 Sale. Formerly known as "The Artist," Prince may not have changed his look, but he definitely revamped his sound. Laced with a heavy jazz beat, his latest album serves little justice to the man who once defined the height of the sexual revolution.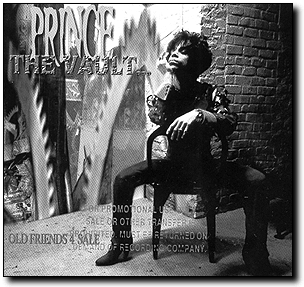 The Vault isn't necessarily dull but is however, a little uncommon of Prince's typical upbeat dance-type songs. The irony of the album lies in the fact that these tracks aren't even new. Rather, they are songs previously recorded by Prince between 1985-1994 , but which were not issued. Now that these tracks are finally being released in 1999, the world will wait and see if The Vault can live up to Prince's party expectations. Unlike previous Prince albums, The Vault spins to a smoother, jazzier sound. Die-hard Prince fans will probably be shocked with its lack of high pitched vocals and kinky lyrics. Modern day music-goers might actually appreciate The Vault's calmer tone.
Those seeking a rebirth of such catchy favorites as "Raspberry Beret" won't find it on this CD. However, The Vault's atypical Prince tunes are undeniably just that. His fashion is unmistakable right along with his seductive voice. Will the CD be a chart topping hit? It's hard to say. Probably not until the next "Purple Rain."
-Maggie Burnett