UA volleyball opens season at UTEP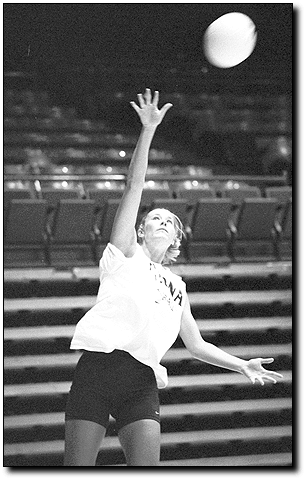 Scott Andrew Taras
Arizona Daily Wildcat
Junior middle blocker Marisa DaLee gets ready to serve in yesterday's practice. DaLee will lead the Wildcats into El Paso tonight to take on the Miners in the opening game of the 1999 season.
By Ryan Finley
Arizona Daily Wildcat, September 1, 1999
The No. 15-ranked UA women's volleyball team opens its 1999 campaign tonight against Texas-El Paso.
Led by junior middle blocker Marisa DaLee and senior outside hitter Raelene Elam, the Wildcats will try to set the tone for a season in which the UA faces seven ranked teams. "We can't take any match lightly," UA head coach David Rubio said. "We're trying to go in there, take the match and get our butts back home."
The Wildcats will have to start their season without, arguably, two of their best players. Sophomore Dana Burkholder and freshman Lisa Rutledge, will be competing for the U.S. Junior National Team in Saskatoon, Saskatchewan until Sept. 5. Arizona is one of only two schools in the nation to send a pair of players to Junior Nationals, the other team being conference rival, Stanford.
The Wildcats appear unfazed by the loss of the two starters.
"The team chemistry is definitely different, especially without Dana and Lisa," Rubio said. "(But) it's nice to see all of the players are demonstrating their skills more with Dana gone. It's great that somebody's trying to fill her leadership role."
Lauren Benward, a 6-foot sophomore, will step in for Burkholder this week.
"The entire team has rallied behind Lauren's work ethic," Rubio said. "They all appreciate how hard she's been working."
The new-look Miners are hardly the team that acted as the Western Athletic Conference's doormat since the mid-1980's. Led by new coach Revis Ward-Daggett, who has experience at both Oral Roberts and Oregon, UTEP appears to be a team trying to dig itself out of the cellar.
Despite winning just two conference games in 1998, the outlook in El Paso is bright. The Miners return five starters and eight letterwinners from last season.
"Our goal is to land in the top-three in our conference," Ward-Daggett told the El Paso Prospector. "We want to meet the level of 'a lot higher.'"
The Miners are a dismal 0-3 against UA, with the last match taking place in 1982. However, UTEP won a spring scrimmage against the Wildcats earlier this year.
DaLee however, doesn't seem to be too intimidated.
"We don't do too well in the spring, for some reason," she said. "We play a lot differently when the games count."
In order for the Wildcats to take a difficult match on the road without two of their best players, DaLee, Elam and the rest, will need to stop UTEP outside hitter Catherine Porter. Porter, a senior, recorded 114 kills last season averaging double digits in kills six times.
Today's match against UTEP will not be taken lightly. In light of the football team's loss to Penn State last weekend, many UA teams have re-evaluated their season openers.
"We want to start off on the right foot," DaLee said. "We've seen how a poor opener can get players down and we can't afford to lose."