UA softball starts season ranked third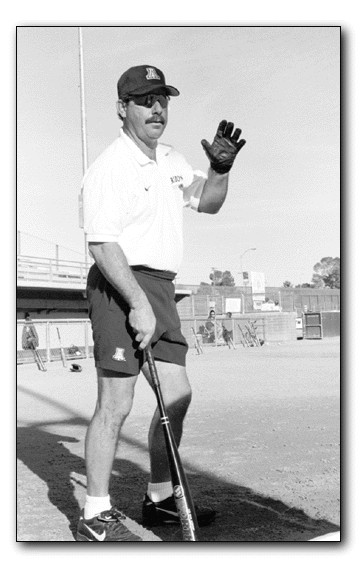 Arizona Daily Wildcat
Photo by: MATT CAPOWSKI
UA softball head coach Mike Candrea hits groundballs during yesterday's practice at Hillenbrand. The women's softball team is ranked third in the preseason PAC-10 polls after an early exit from last year's NCAA Tournament.
Chris Martin
After being the team to beat in the 1990s, the UA softball team begins the 2000 season as the hunted, not the hunter.
With the Wildcats bowing out to Washington in the College World Series and UCLA capturing the national championship crown, UA begins the season ranked third in the Pacific 10 Conference.
"I think both Washington and UCLA have earned the opportunity to go into this season probably ranked ahead of us because they finished higher last year and they are returning a nucleus of very good teams," UA head coach Mike Candrea said.
"Rankings don't really mean anything this time of year," Candrea continued. "I think if you worry too much about rankings then it can really swallow you up. You need to realize that the most important ranking is the last one, at the end of the year."
Arizona coming off a season in which it finished second place in the Pac-10 with a 19-9 record and 53-16 overall.
The Wildcats return the majority of its players from last year, which will give the team a year more of experience and maturity.
"I think we are going to have a good season, we've really learned we are a lot more mature this year," junior center fielder Nicole Giordano said. "We are more of a team rather than me, me, me. We are not as self-centered this year, we know what it takes to win with everyone working together."
For the UA to overtake UCLA and Washington, it will need bigger contributions from the upperclassmen on the team.
"There are quite a few players that need to have good years for us to be successful, beginning with our senior class, (right fielder) Chrissy Gill and (second baseman) Katie Swan," Candrea said. "I expect both of them to have very good years and I think that is key for us." UA also has a talented junior class, led by